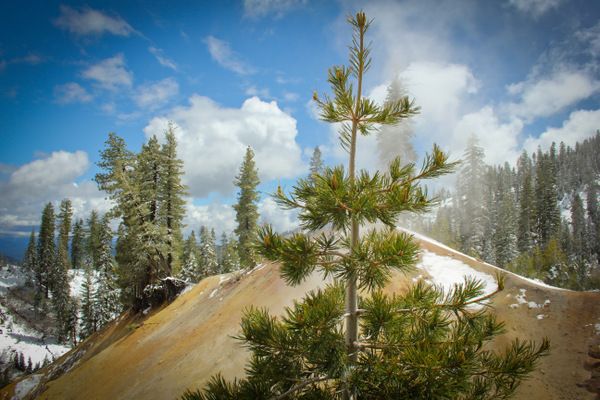 I love it when one of the kids becomes so fascinated with a topic that he wants to learn everything about it. EV-ER-Y-THING. (Remember back in the day when we used to use encyclopedias to research random topics? I miss paper.)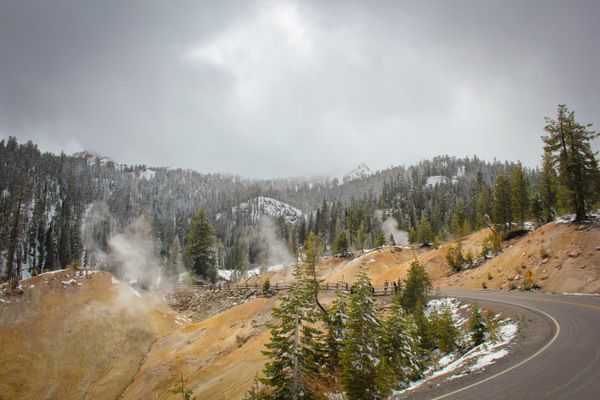 The latest topic to cause the children to gather around the computer was volcanoes. The kids wanted to know if we live by any active ones, so my husband planned a trip to Mount Lassen to check it out. The last eruption was in 1914, if I remember correctly. Currently there's no sign of volcanic activity, other than steam vents.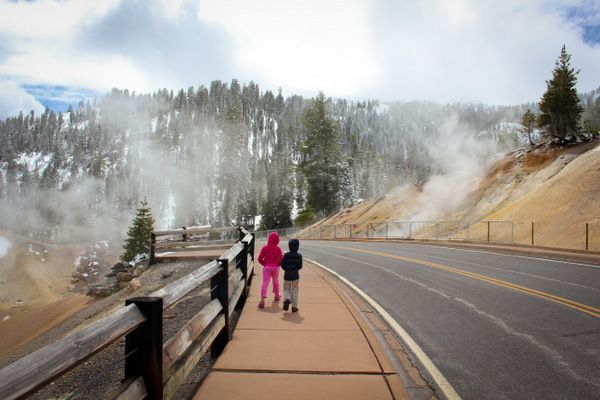 Some very stinky steam vents.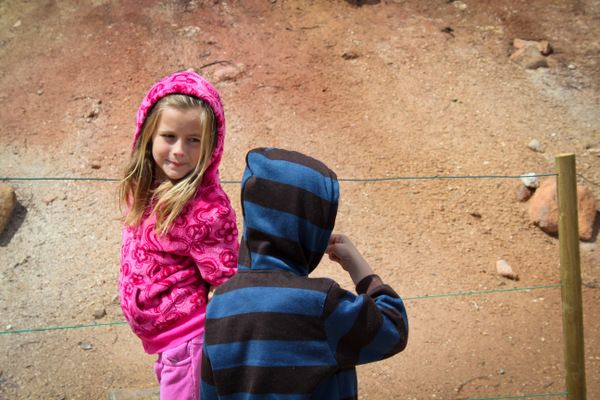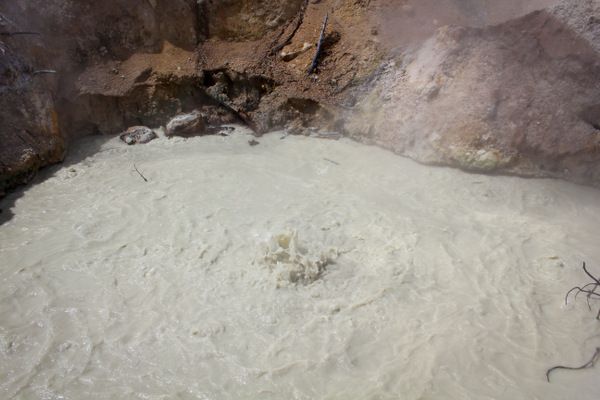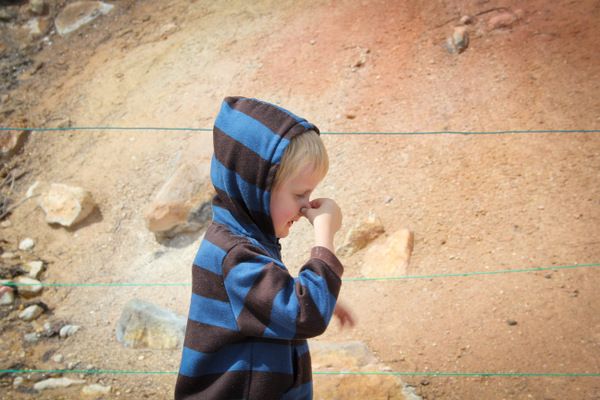 And some streams that seemed to be pure liquid sulfur.
It was a bit eerie walking around on a mountain that clearly has a lot of heat underneath it...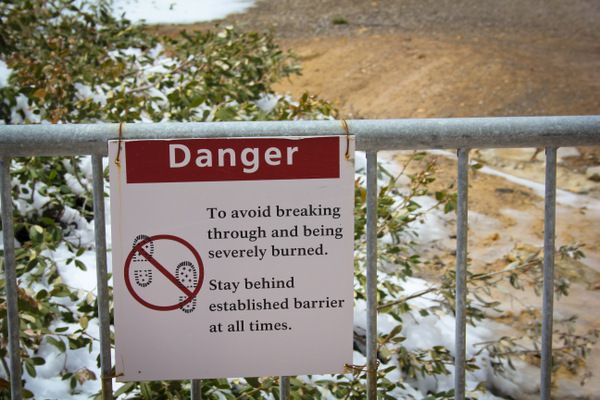 A cold front came through the day before and there was snow on the ground. There were still snow flurries blowing around in the sunshine when we got there. I love odd weather like that!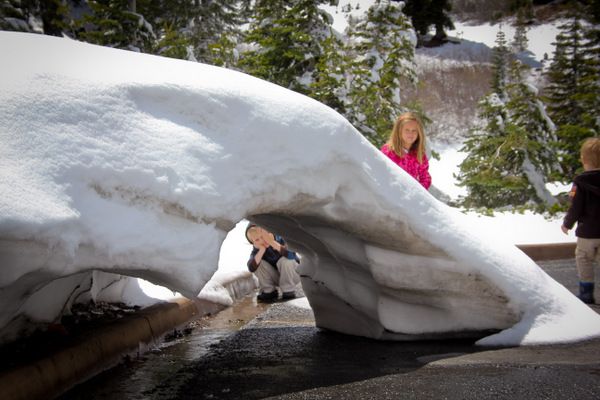 My oldest two insisted on wearing their new summer shoes on the excursion, in spite of my warnings. I decided to let them learn the hard way that snow and Crocs don't mix. "You can wear your new shoes, but trust me — you're going to wish you brought your boots."
One melting snow mound later...
"I should have listened to you, mommy. You were right." Mmmhmm, let's see how long you remember that lesson, kiddo.
(They always seem so shocked when I can predict an outcome like that. "How did you KNOW!?!")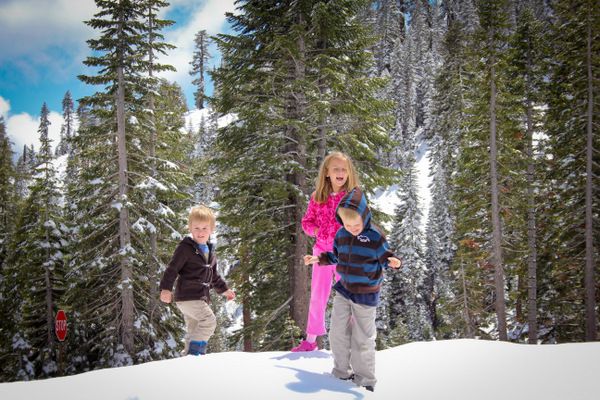 My silly power walker: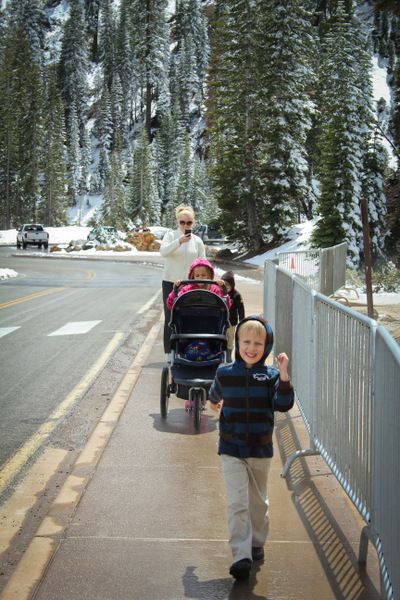 It was a great break from the heat of summer.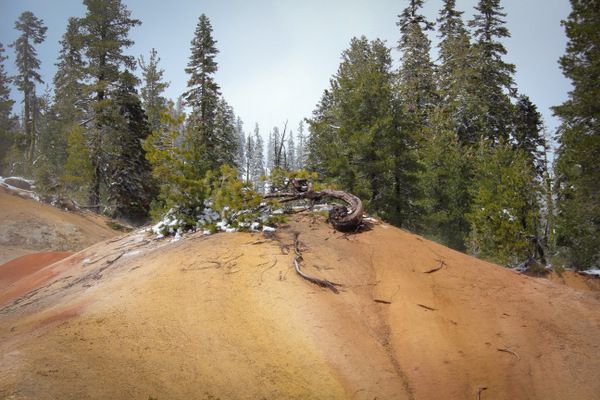 On the way home, the kids asked what volcanic rock looks like. So, my husband stopped along the buttes and grabbed a chunk for each of them.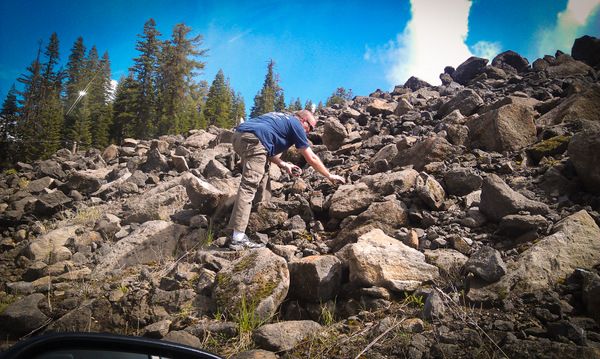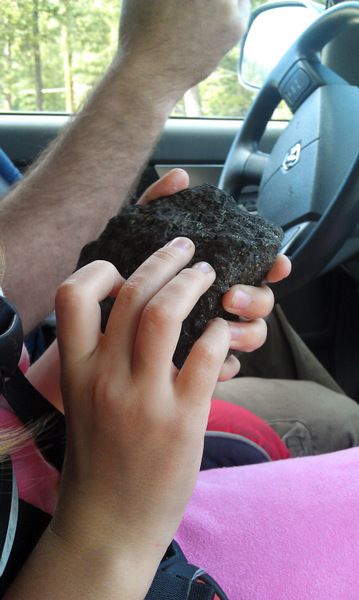 It was great to be able to show them a volcano first-hand, even if the reality doesn't compare with Mount Doom.
I realized two things while on the trip:
1. When taking a car trip that takes 3 hours each way, prepare for it as though it's an all day road trip with activities for the kids. We just piled them in and left; they were driving us and each other crazy within a couple of hours. If I did this trip again, I'd stop by the dollar store on the way out and let them each pick a few things to play with. I would have brought the portable DVD player, too.
2. I'm instinctively very protective of my children in nature. Once while we were at the zoo, one of the caretakers told us about how the wild cats track young children in strollers and those that have walked a few feet away from their parents. Ever since then, I can't help but pull my children close to me when we're in a natural environment. It's probably overkill, but I can't help it!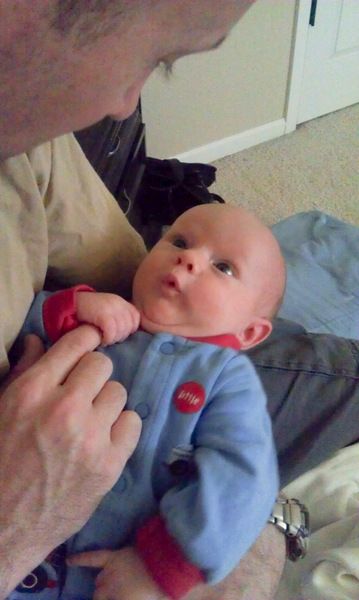 I don't even think about it. I asked my husband to bring up the rear while we were out walking, which to him, meant allowing my 3 year old to trail by 10 feet. I couldn't fight my instincts; I found myself bringing him in within three feet of me. Even that distance was hard for me!
I'll let him wander farther when he listens to "no" and "stop" and "there's a reason why that sign is there" better.
----------------------------------
Speaking of Google and Mount Doom, if you go to Google Maps and type in walking directions from "the shire" to "mordor," this is what you'll see...
"One does not simply walk into Mordor." Hah!