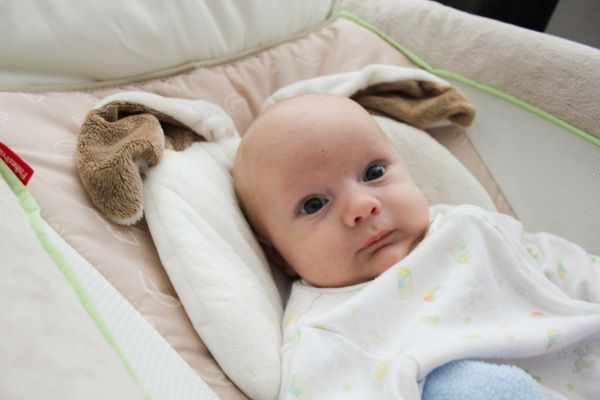 I don't know how this happened, but it's true! For now, anyway. Having four children has been easier than having just three! I've analyzed the situation, and here are the main factors influencing this outcome.
1. The older children grew up.
I think the situation would be different, much different, if all four children were three-year-olds. I've only got one of those, however.
The older two are, well, older.
They've been to school. They know the way they're supposed to behave. They understand logic. They listen. They may forget that I asked them not to play loudly by the sleeping baby 60 seconds after I asked them not to, but they do understand the reasoning behind the request. All I have to do is say their names with a raised eyebrow and they remember their good behavior. And raising older children, while complicated at times, just isn't as physically demanding as babies and toddlers are.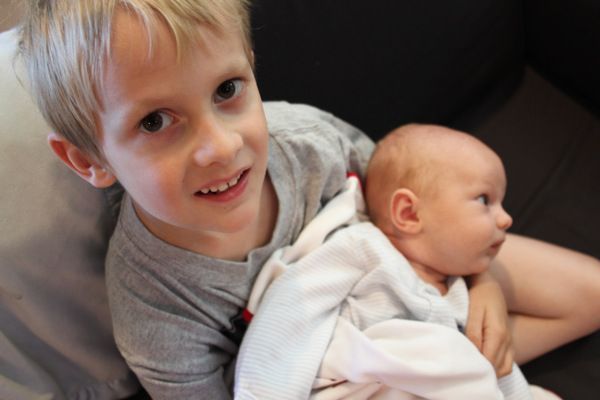 Having the baby as an excuse is going well too, because they don't question me at all.
"It's time to go, guys, because the baby needs his diaper changed."
No "but mom, can't we stay for a little bit longer?"
Or "but mom, we just started playing hide and go seek."
Or "but mom, it's not even bed time."
The threat and the eager anticipation of a diaper blow-out is enough to motivate them to move. For now. I'm so jinxing myself by writing this!
2. The youngest sleeps.
Babies sleep a lot. You'd be surprised how exhausting that can be when the periods of being out are broken up into tiny little chunks that don't allow for deep sleep. With my other children, they never slept more than 2 or 3 hours at most. Usually. They were snackers, or had other issues, and would wake up every few hours.
Not this little man! He sleeps in big chunks! I don't want to jinx this either, and I know that babies change just as soon as I tell someone that the baby is behaving in a certain way, (they like to show me whose really in control like that,) BUT, for the last 3 or 4 days my baby has been sleeping SEVEN hours at night. Of course, I completely blow at least two of those hours unwinding at the end of the day and I usually end up getting closer to five hours of blissfully uninterrupted sleep, but that's HUGE. I've never had a sleeper before.
Speaking of sleeping, I am in LOVE with this bassinet. (I know, I know — lots of all caps in this section — but sleep is a MAJOR factor in all of this newborn business.)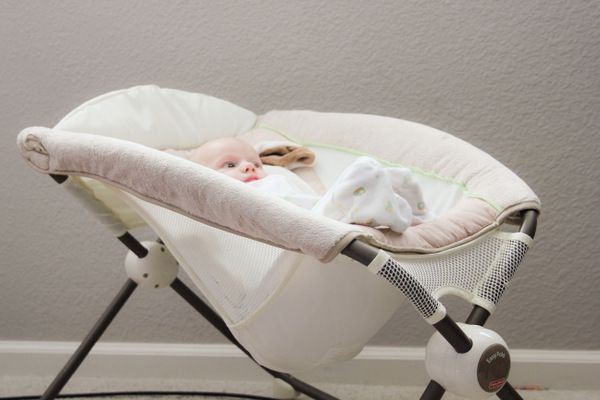 I don't even have a crib for the baby yet. He spends his nights in here, snuggled up next to my bed. We'll get to the crib, and maybe even a room, later.
3. They pair up.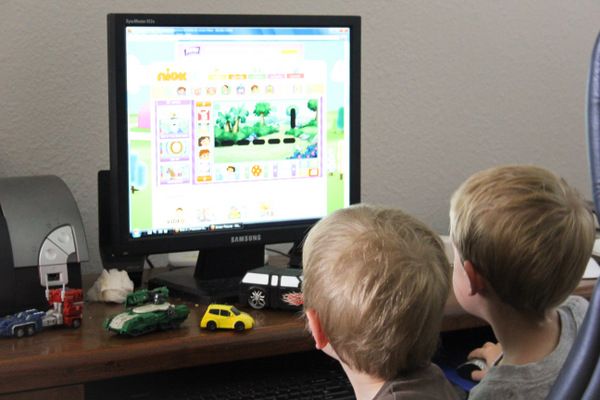 Someone was always left to pair up with me when I had three children. Now, they pair up with each other. My daughter asks constantly if she can hold the baby, and the other two are Autobots in disguise or dinosaurs for a great portion of the day. I find myself standing alone in the kitchen when it's time to make dinner. ALONE. No one hugging my knees. No requests for food before dinner is ready. It's bizarre. I actually have time to do things around the house!
4. It helps to not be pregnant.
It's not that having three children was all that hard. It wasn't. But it was rather physical. Being pregnant, with the general inability to do anything more strenuous than walking to the mail box, made having three young children more difficult. I had forgotten what it felt like to have energy and the option of bending.
Need to pick up the three year old to put him in time out? Sure! No problem!
The kids want to play out front? Great! I can run after them if needed.
It's 11 at night and the laundry still needs to be done? Done! And I can do it without my whole body screaming at me.
Being pregnant while tending to three other children was much harder than being not pregnant and having four.
5. They're just so darn cute!
You know what's better than having three witty, cute, sweet, loving kids?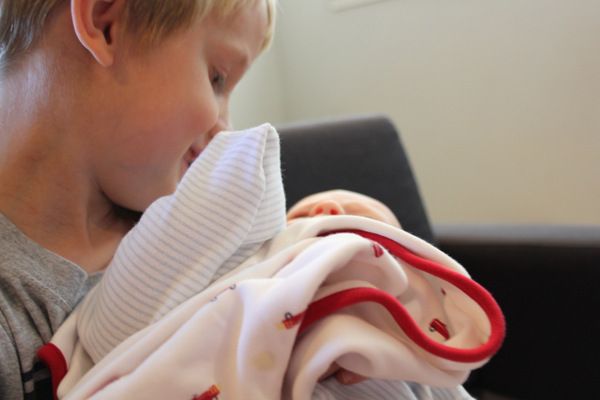 Having FOUR sources of childhood awesomeness! :)
This new little person makes me smile throughout the day.
And now, he smiles back.