I've been fighting the battle against time and tiredness the past couple of weeks. Time and tiredness have been kicking my trash. But this week I was able to eek out a little door painting project.
We decided to paint the front door black for now. I wasn't originally planning on painting it a high gloss, but when we changed our minds about
the fireplace
and made it white instead of black, I had this little can of paint left over. So, on the door it went.
Here's what the door looked like before: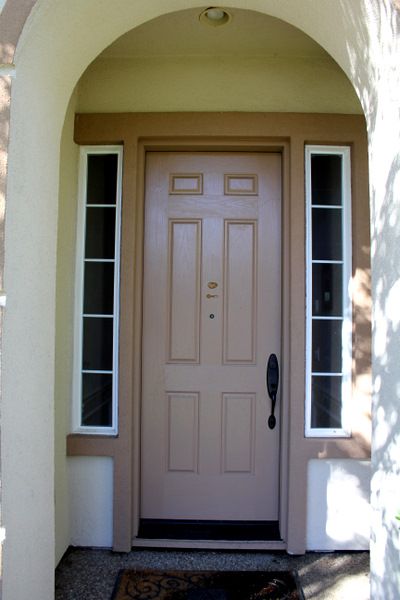 And here it is now (in poor evening lighting; sorry!!)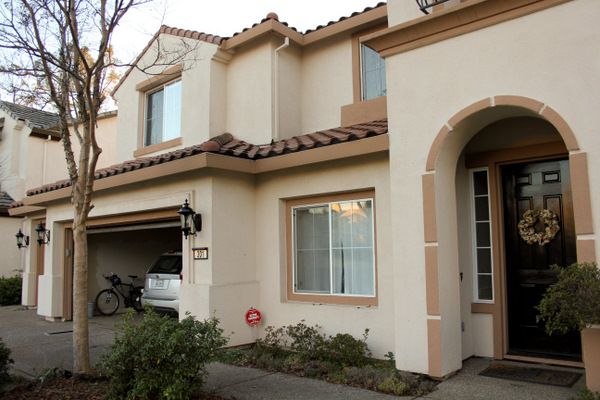 I ended up painting the light fixtures next to the garage as well, to tie the black door into something. They were all that dark tan color before: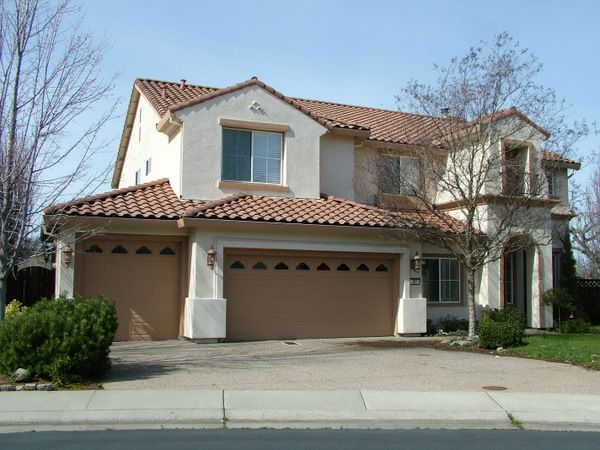 The paint I used was this new kind that is super thick and promises to dramatically decrease the appearance of brush strokes.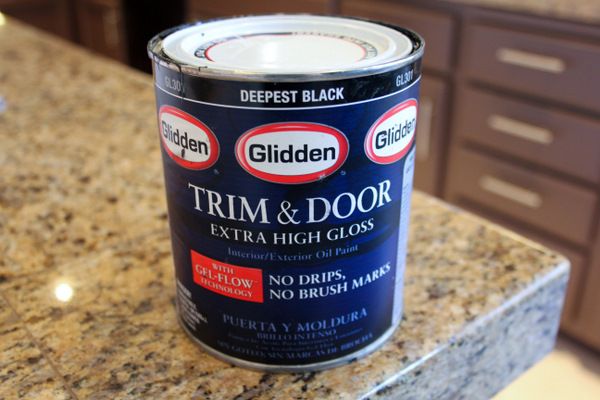 I was excited to try it, to see how it would work.
Pro's:
-It's really thick and doesn't drip.
-The brush strokes are greatly diminished.
Con's:
-Because of the viscosity, it can't be mixed. You have to buy one of the pre-set colors, and there's not a lot of choices.
-The thick paint made me think that I could get away with one coat. That was not the case; this definitely needs a second coat once it's dry.
-It takes a long time to dry.
-Ten minutes into the project, I got some on my fingers. I wiped it off on a paper towel and realized that it was an oil-based paint. Which is fine, if you're expecting that, and you buy the appropriate chemicals to get it off. I, however, had no such chemicals on hand. I've still got black marks on my hands and arm. And I had to toss the brushes I used.
-It doesn't cover as much square footage as it's thinner equivalent.
-It's more expensive.
In all, I don't think I'll be buying this particular paint again. It served it's purpose. And it would go unused if I didn't put it on the door. However, in the end I think it was more trouble than it was worth.
Well, painting the door black wasn't a dramatic change, but we're happy with the results.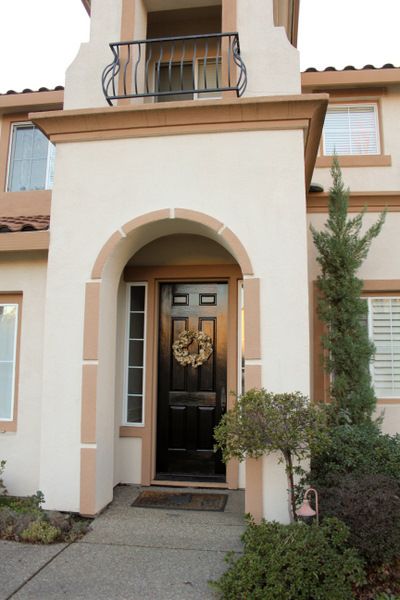 And hey, I'm just proud of myself for getting up and doing something — anything — productive this week! It's been a long one. Glad it's almost over. And now I can't get Paint It Black out of my head. Time to break out Rock Band and do it justice... at least, attempt to. You know, with all the extra time and energy I have. ;)