I should have recognized the symptoms. I should have known the series of events were connected.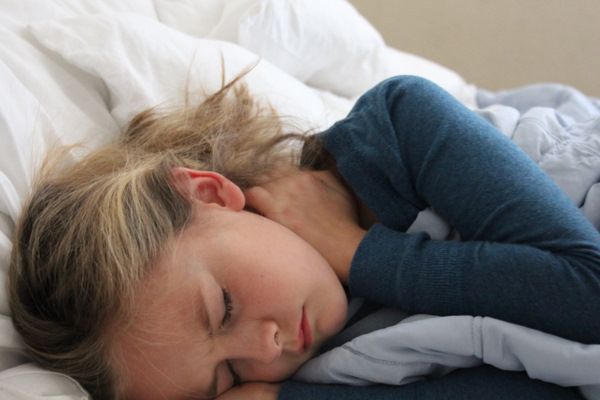 Earlier today, my 7 year old hit her head pretty hard. Not hard enough to leave a mark, or to cause her to cry for more than 5 minutes, but hard enough to hurt. I sent her to her room to lay down until she felt better and calmer. I checked on her a few minutes later. While she was in there, she forgot the bonk and picked up the book she was reading, one of the
Ramona
series.
Half an hour later she came out to play with her brothers. "Hey Mom," she said as an aside, "it was weird when I was reading, the letters started turning white!"
"Huh, that is strange." I replied, figuring she had been staring at the pages for too long in poor lighting. It never crossed my mind that this could be a pre-migraine visual disturbance.
Later, she heard the neighbor friends playing in the court and wanted to join them. I told her she could go. While she was bending down to put her socks on, the pain started. She came to me, hand on her head, complaining that the right side was hurting a lot. I inspected her head to see if there were any sign of the hit to the head, which there wasn't. Not even a red mark.
By the time I put one and one and one together, I knew it was too late. Her headache had progressed to the point that ibuprofen couldn't do much to keep the searing pain away, and she's too little for stronger medicine without consulting a doctor. She needed the ibuprofen at the visual disturbance stage to have any hope of avoiding the misery. I gave her some right away, along with a glass of Mountain Dew for the caffeine, and helped her understand what was going to happen next.
I called my medic to get his opinion too, since the event was preceded by a hit to the head, just to cover my bases. And I'm always hesitant to label something as a migraine when it's the first time. I worry that I'll jump to the headache conclusion prematurely since that's what I know. He agreed that it was "just" a migraine. He himself had never experienced one until several years into our marriage. I took care of him, much in the same way that I'm taking care of my daughter today.
"I want you to go lay down in the guest bedroom, where it's dark and quiet," I told her. She was in tears due to the unfamiliar pain.
"...But how dark is it going to be?" She asked, for some reason developing a sudden fear of the dark.
"Oh, it won't be that bad. It's just that light and noise will make your head hurt worse, and you don't want that, do you."
"No!"
She crawled into bed and I showed her some techniques to help make the pain manageable, like pressure points, tugging on her hair in just the right spot, the benefits of the gentle pressure of a pillow on the top of her head, and massaging her neck and skull muscles. I told her what to expect, from how bad the pain might get to possibly throwing up. She relaxed as the medicine began taking the edge off the pain. "I just want to sleep now," she told me. I left the room, only to be called back 15 minutes later. "Can you pull my hair some more?"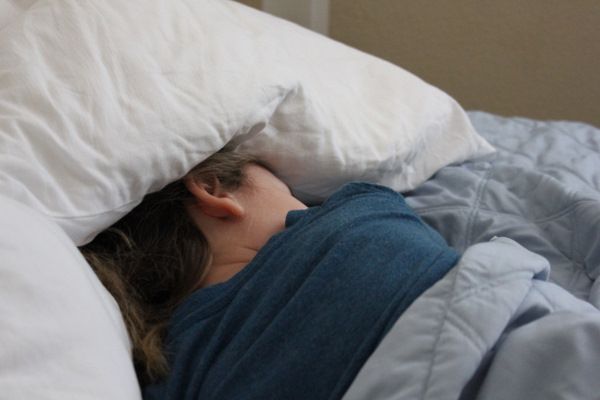 I helped her cope with the headache and we quietly talked. She asked about when I had my first migraine. I told her about how it happened at school, and my mom took me to my grandma's house so that someone could keep an eye on me while I got better. I told her about her dad's first one, too. She commented on how unlucky he was to have such short hair that couldn't be tugged. Then she felt special for being the youngest person in the family to get a migraine. Poor girl!
It's hard seeing her go through this. I know how she feels, and I hate that there's nothing I can do about it.
She's still resting and lamenting that I won't let her watch t.v. while she recovers. Just moments ago the neighbors knocked on the door, which caused her to jump up, which caused her to throw up. "But I feel better now, Mom!" She exclaimed as she brushed her teeth again. She doesn't understand why I won't let her go outside. And now she and her brothers are discussing the finer points of what it's like to throw up.
Sigh. At the very least, if one of the boys gets a migraine, she'll be an eager little nurse with lots and lots of grody details to entertain them with! And if she's feeling well enough to talk about vomit, she must be on the mend. The difficult part now is going to be convincing my 7 year old that she needs to be all the way better before she gets up to play, or else the headache might return. So far, she's not buying it. The desire to play is stronger than the pain. This is one lesson that I hope she doesn't learn the hard way!