I'm too young to be five years away from turning 40! How did this happen? I swear, I'm still 29. But somehow, many years (and children) have passed since I was that age.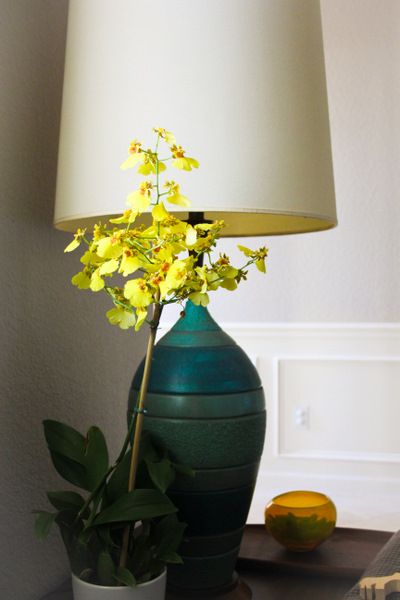 Birthday flowers from my love. :)
The ironic thing is, I look forward to five years from now. In 5 1/2 years, the children will all be in school. I am excited about the time I will have to myself, to get things done. I could use those hours to be so much more productive than I am now. Maybe my house will be cleaner, and I'll get back into painting. I could take a class or two at the local college. Just for fun. And on the days when my husband is home, we could go to lunch and a movie. We could go on actual dates! Our daughter would be old enough to babysit. We'll have deeper friendships with people in our new community. It should be a great time in our lives. The strange thing is picturing myself as 40 when all of this happens.
I guess I'm starting to feel the fear of time moving too quickly to fully enjoy all the funny little things that happen, like my 2 1/2 year old asking his dad in his broken baby voice to "trans my former" while holding out Megatron.
While there have been months of time standing still, waiting for a baby to learn to sleep through the night or wading through the daily battle with morning sickness, for the most part time has progressed faster than should be possible. I should be 35 in five years from now. Something is terribly wrong with the physics involved with being a parent to young children.
In spite of the feeling that time is getting away from me, I had a wonderful birthday. According to reports, the children took advantage of me going to the store the day before my birthday. "Hurry, she's gone! Let's go!"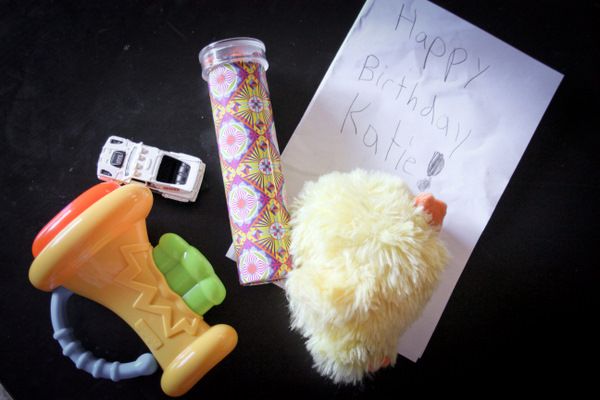 They went through their toys and selected items to give to me — things they no longer wanted themselves, of course :) Then they crumpled paper around them and threw them in a small bag and put it under the tree. Apparently, my explanation of why they didn't need to give me physical presents to open on my birthday was not acceptable.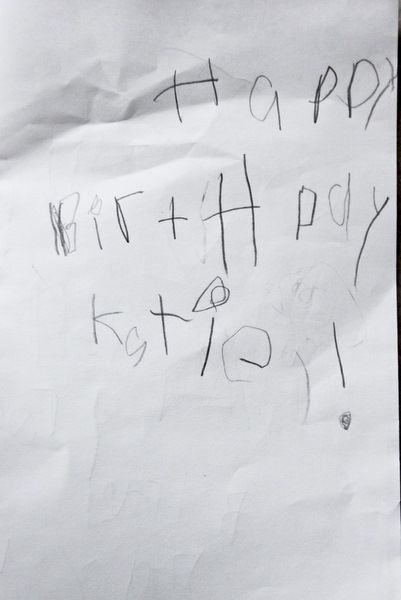 The kids also made birthday cards for me. It cracks me up that they address me as "Katie" on their cards! I love it.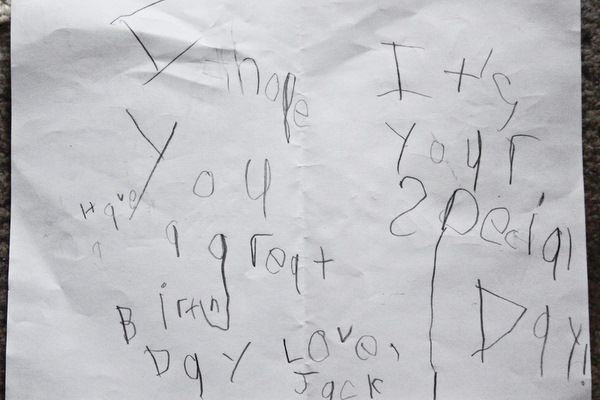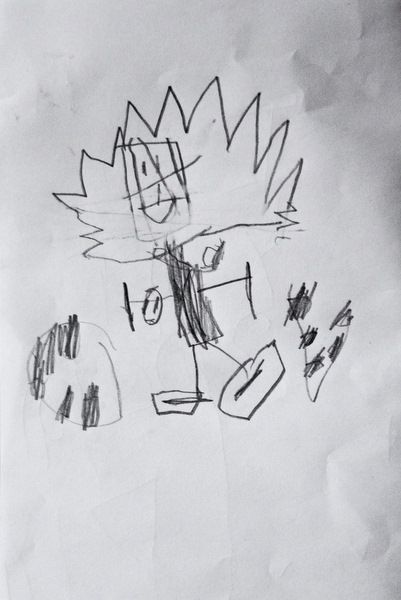 This, according to my kindergartner, is a robot. "But it's a girl robot. And she has a bracelet and a necklace. And some extra necklaces."
As much as I look forward to five years from now, I don't want to miss these little instances of sweetness and awesomeness that accumulate throughout the day. Such as this — my youngest interrupting a musical number at the church's Christmas pajama breakfast by jumping up on stage and dancing. (I was the one hiding under my napkin, laughing, embarrassed, and purple.)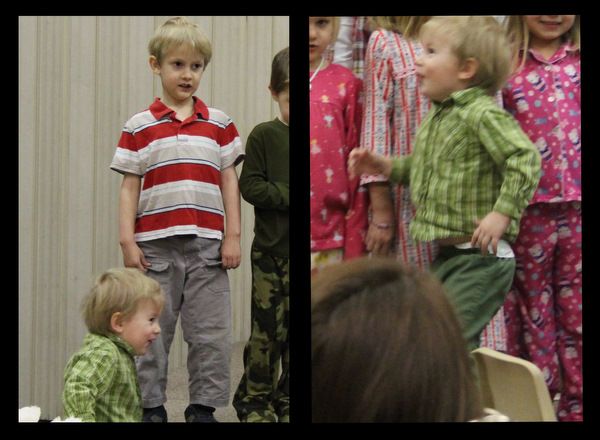 I don't want them to be 5 years older. And if I'm honest with myself, I don't want to be 40 years old! But I guess I have a lot of time to get used to the idea, and plenty of opportunities to enjoy life with these little beings before that day arrives. And when it does come, after getting over the initial shock, I'll sit down in my quiet, clean house, look back on the preceding five years, and be happy.
And maybe the presents my children give will be a little more age-appropriate for me. :)