Thank you all so much for your support and excitement for our latest pregnancy! I love that #4 has just as many fans as #1 did. He or she is lucky to have such great friends and family waiting for the big day. I am very excited and I feel blessed to have the opportunity to be Mom to another little person. My family didn't feel complete. In the back of my mind there was always a sense that someone was missing. I think this little one is the missing piece of our family.
I'm happy!
With that said, I am also miserable!!!
I've done this pregnancy thing three times before. I thought I had experienced all that my body had to offer in the way of symptoms and reactions to the surge of hormones. I assumed that I knew what aches and pains I might expect. I thought that in three pregnancies, surely I must have gone through it all, right?
Sigh. I was wrong. Dead wrong. Or, more accurately, sick wrong. The "morning" sickness is really kicking my trash this time around. In my other pregnancies, sure, I felt sick the first three months, but I never needed anti-nausea medication. I'd have periods of feeling blah, but then the rest of the day would be just fine. This time? I get little 15 minute spurts of feeling only slightly sick. The rest of the time I am somewhere between "please don't make me get off of this couch" and "a coma. Put me in a coma!"
I am near the end of the first trimester, so hopefully things will let up soon. In the meantime, my house is falling into serious disarray. My husband being stuck at the station for 5 days in a row this last week didn't help the situation. It's really embarrassing, so if you knock on my door and you see me hiding, know that it's not you; it's me — and my house!
My children have been, overall, very good about letting me stay laying down for the better part of the day. But they're small, and they still do have their moments. Like the fire rescue in the snow scene my 2 year old reenacted using all the salt in my canister for the snow, a tiny fleet of metal fire trucks, and apple juice squeezed from a juice box as the hose — in the living room, of course.
He also came to me with this the other day: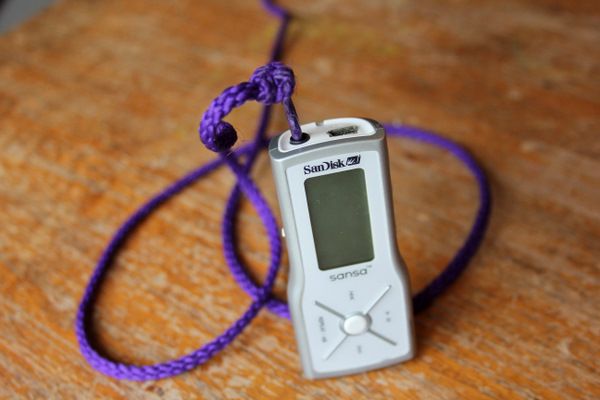 I must say, very creative!
For the most part, they've been very good. My daughter and older son have taken over the kitchen table as their craft station. They spend hours making a mess down there. I'm happy that they can entertain themselves for so long. I'll peel the cotton balls off the table later.
And every once in a while, they do something incredibly sweet — like this: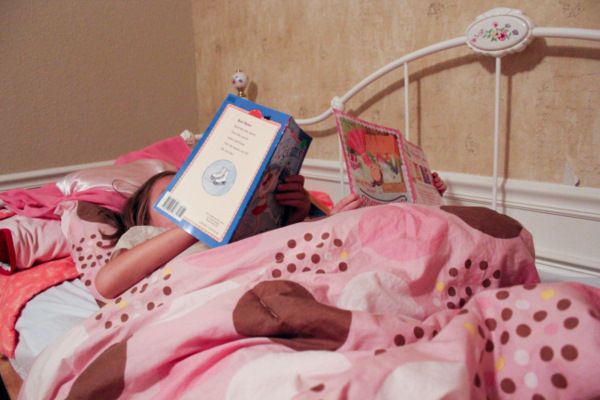 I found my oldest giggling and reading in bed with her little brother and his upside-down book.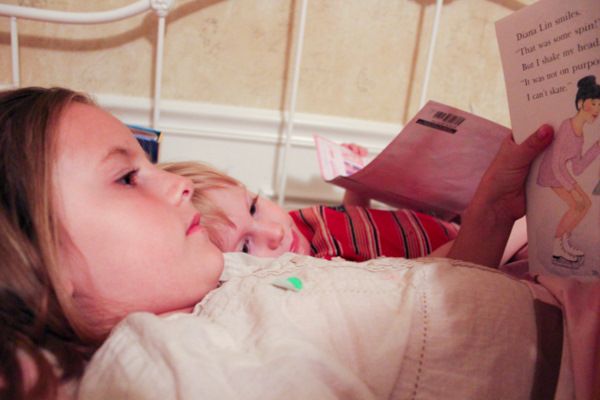 Really, it was a ploy by my 2 year old to get out of the dreaded bed time. He's getting smart. He is learning that the way to win the bedtime battle is with sweetness instead of tantrums.
Or, there was this moment. My daughter was given a bag full of little hearts at church, to leave whenever she does something nice for someone. Here, she made her brother's bed: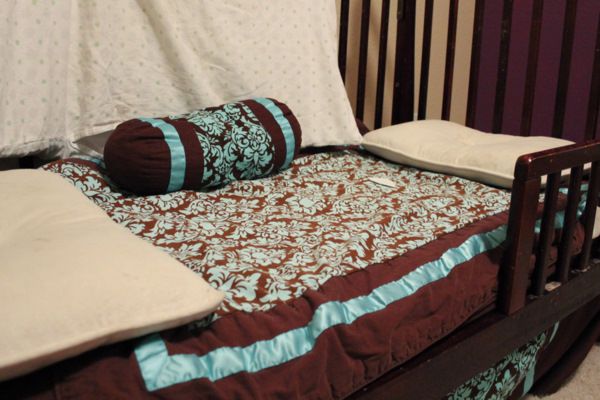 So it's not all gloom and sickness and misery. But it is very, very messy around here! :p I will have the energy to do things like clean up and cook dinner and shower regularly in the second trimester, right??
Oh, and you should see the hormone-induced mood swings. It's crazy. I got teary-eyed this morning because I heard a flock of geese flying overhead. A flock of geese! What the...??? I'm not sure why that made me emotional! Oh, my poor husband!