I got a phone call from the fire station. Usually my husband doesn't call me until later in the evening when the kids are in bed. The later time allows us to actually talk to each other. Otherwise, the kids are alerted to the fact that Mom is paying attention to the phone and not to the center(s) of the universe. They respond by clinging to my legs and fighting for the chance to put their faces two inches from mine to ask pointless questions over and over again. It's nice to be loved.
Anyway, I got a phone call from the fire station. Luckily, in preparation for the big spring forward, I had put the children to bed an hour early.
"Head outside," my husband energetically suggested, "and take the kids with you. The space shuttle Discovery and the space station are supposed to pass by in a bit."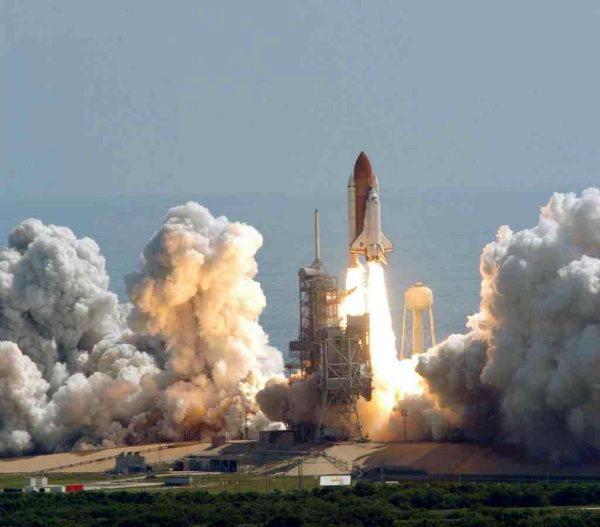 "...but I JUST put them to bed," I lamented. "I'll think about it."
I debated whether or not to take them out of their rooms for the event. It's hard to compel myself to be an eye-witness to something like the final flight of a space shuttle, when being a lens-witness at a more convenient time is so easy with youtube and the like.
With five minutes to go, I could hear that the older two were still up and about in their rooms. The toddler was asleep for the night. I decided to leave the youngest in bed and take his older siblings out to the backyard in their pajamas.
"Hey, guys, you wanna see a space ship?"
"A space shuttle?" said my daughter.
"A police ship?" said my son.
"Yes. There's going to be a space station too," I explained. They're going to look like stars, moving really fast."
The children thought it was silly to go out in the yard in the middle of the night in their pajamas, and made sure over and over again that it was okay to do so. We looked up between the trees and houses, hoping there was enough sky to see the flying objects.
My son kept asking where the police ship was. I explained that it was a space ship. "But I want to see a POLICE ship, mommy."
Just in time, we saw a light moving quickly across our path of sky. The kids were transfixed. In a few minutes it was over, and the excitement was no longer enough to mask the fact that it was cold out there.
I brought the kids back inside and herded them up to bed again. On the way they asked question after question about the final flight of Discovery. I delayed the trip to their rooms to show them what the shuttle looks like close up. We watched a launch and a landing on the computer. Of particular interest were the boosters falling off during takeoff, and the parachute deploying as the shuttle touched down.
"Mommy," my 4 year old asked, "NOW can you show me a police ship?" I tried to explain again as I tucked him back into bed that I couldn't find a picture because there are no police shuttles. He frowned as he described what such a ship should look like.
The kids did not fall asleep for a while. I could hear them imagining space travel in their respective rooms. My daughter came out of hers and asked for a piece of paper. "I have an idea," she explained. It was way WAY past her bedtime, but I knew to let her do what she does best, and I had an idea where her thought process was headed.
Sure enough, ten minutes later she came out of her room with this picture for her little brother: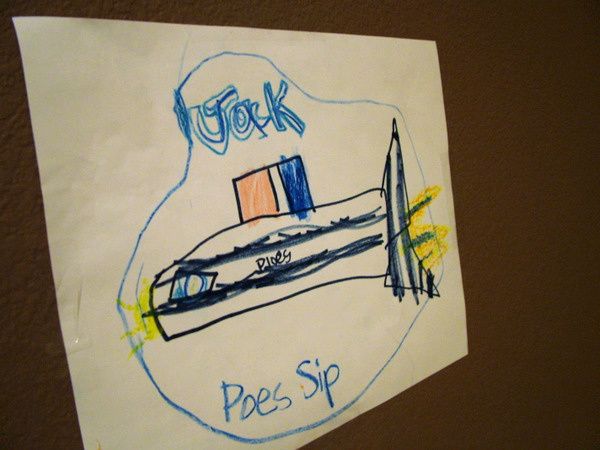 "I spelled it like he says it so he can read it," she explained as she showed it to me. "Can I go in his room to give it to him?"
I made her wait until I grabbed the camera.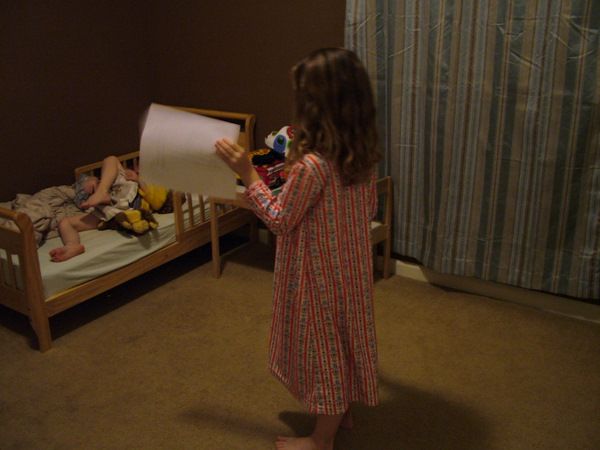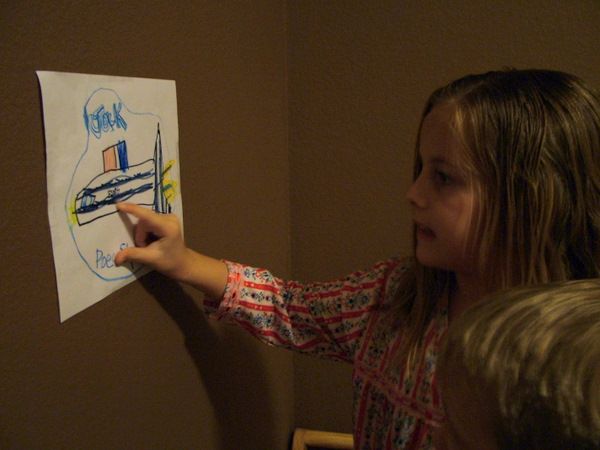 I forget how powerful the experience of being an eyewitness can be to a child. Maybe their worlds are so full of pretend that real events take on even more significance. I can tell you that the impact wouldn't have been nearly as impactful if I had simply shown the children a video of a light moving across the sky.
I'm glad I didn't just brush off the event as a simple speck of zooming light — which it was — and dragged them out there anyway.
It was worth it, even if it meant being late to school the next morning — which we were.