Two years ago, we celebrated our first Christmas in true fire department family fashion — on a day other than the holiday itself. It amazed me how easy it was to move the date. Since we like to celebrate with our own little family in the morning when opening presents, it felt like Christmas.
I wasn't expecting it to truly feel like Christmas.
I thought our celebration would be a let-down in at least some small way. But it wasn't! The in-laws came over, we had our festive breakfast buffet, the kids had gone to bed after wrestling with excitement insomnia the night before — just like they do on the "real" Christmas eve.
I kept forgetting that it wasn't the 25th. Somehow, the wrong day felt right. Maybe that feeling was due to the sleep-deprived frenzy of wrapping presents the night before. Then, on the 25th of December, it seemed strange that the stores were closed. The right day felt wrong!
We went to the station to have dinner with Dad and his crew on the actual Christmas day. It felt like a normal station visit. We did what we always do at the fire station — cook dinner, sit around in the chairs, and if possible, spin in them.
(I don't know why all of the fire stations I've been to feel more like a glorified office rather than a home — office chairs, white/chalk boards, conference table, horrid blue fluorescent lighting, bad carpeting, and all. I would LOVE to get my hands on the station and re-decorate! The first thing to go would be that horrid lighting.)
After having done it a few times, I generally don't mind celebrating holidays and birthdays on the wrong day. Nine times out of ten, it is as good as the real thing. The biggest complication is working around the schedules of extended family — but usually, having a celebration on the wrong day makes it easier for Grandma and Grandpa to participate since there aren't conflicting social engagements. Everyone's available for Thanksgiving on Saturday.
Plus, the holiday pay is nice. :)
However, some holidays CAN'T be celebrated on the wrong day. Halloween is one of those days, along with the 4th of July (and other holidays with a parade or a large public display of some sort.)
There's really no non-intrusive way to go trick or treating on November 1st.
On those holidays, I do my best to keep up the traditions on my own. This year, I'm going to be wielding the double stroller at the local Trunk or Treat by myself again. I'm hoping that I won't have a repeat of
last year's disastrous puke-filled excursion
. I can't think about Halloween without remembering that long day.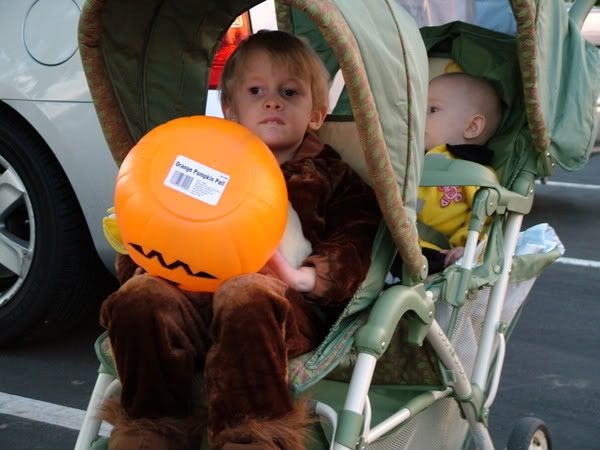 This year, I'm coming prepared. I'm stocking the stroller with bribery items, paci's, and activities. I'm freeing up my obligations at the event so that I can make a quick exit if needed. I don't have to drive my husband to work anymore since we're a two car family, so I won't have to try to squeeze in a long car ride early in the morning or deal with the havoc that the lack of sleep has on the kids' behavior. Having children that are a year older and wiser should help, too.
And, I'm taking a barf bag. Just in case.
(A bag different enough from the candy collection bags so as not to be confused!!!)