I heard the door open, followed by the muffled sounds of hugs and kisses being distributed to the kids downstairs. "How was your night?" I called out.
"It was horrible." It was a rhetorical question; the droop in his stature as he walked up the stairs said enough. "I got run all night, and the stupid speaker system was malfunctioning. Every hour it would make a static noise, just like we were going to get a call. I sat up and put my socks on three times unnecessarily, on top of everything else."
I walked over to him, gave him a big hug, and sent him to his room. I tried to keep the children quiet, but I knew that it wouldn't matter much. The odds of him actually taking a nap were slim to none. I heard him turn the water on and knew that he was opting for a long soak in scalding hot water instead.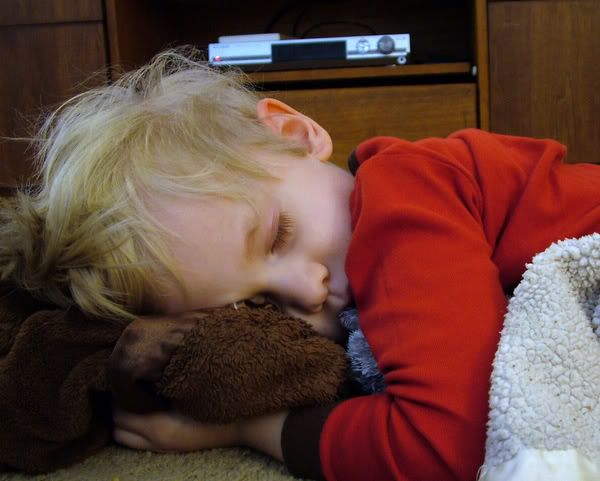 Apparently, for some people, sleeping during the day is even worse than being exhausted. It's hard for me to understand that; I feel like stretching and smiling when I wake up from a nap. For my husband, he feels even worse than he did before he fell asleep, or so I'm told. On the days when he does succumb to sleeping, it takes him a good hour to reboot after he wakes up.
Our son takes after his dad. He just doesn't handle getting up from a nap well. The other day, I found him curled up asleep on the floor with his comfort items. (He used to ask for his lovey and his blankie and his kitty and his puppy individually when he needed them. Then one morning he came into my room and asked me to hold his "lots of stuff," or, as he says it, his "wots of stuff." That's what he has called his things ever since.)
The items help him to transition from waking to sleeping, and vice versa. But even his lots of stuff couldn't stem the sadness that came when he woke up the other day from a rare nap. I could not figure out how to comfort him; he didn't seem to want anything I offered. I was at a loss, not knowing, really, how he felt. I sat on the floor next to him and rubbed his back, but it didn't help.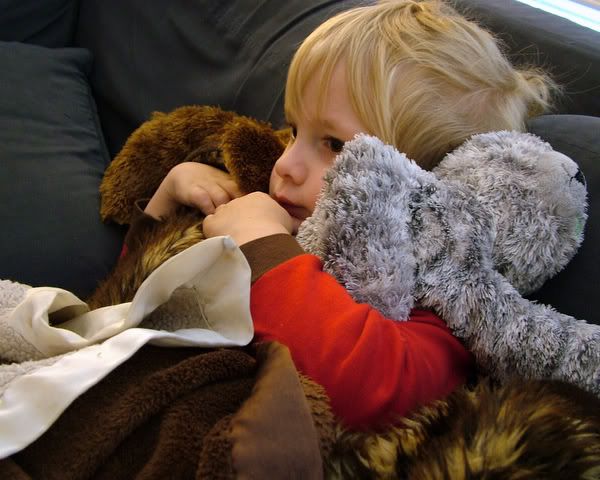 Thankfully, my husband was home that day. He saw what was going on, picked his son and all of his things up, put him on the bed in the guest bedroom, and turned on Caillou. I heard my groggy little guy protesting every step of the process. But when he was all set up, he calmed right down. Half an hour later, he came out happy and told me that Daddy made him all better. Now I know what to do.
I wish I could do that for my firefighter; I wish it were as simple as giving him his lots of stuff and putting on a show when he wakes up from a nap. I'd feel a lot better about the sleepless nights at work, if he could actually nap peacefully at home the next day!