Here's the theory. The kids pig out on their holiday candy stash, feel yucky, and within a day or two, want nothing to do with sugar for the next ten years. (That's when I swoop in and "dispose" of the offending chocolate for them.)
The new poster paints had a similar fate.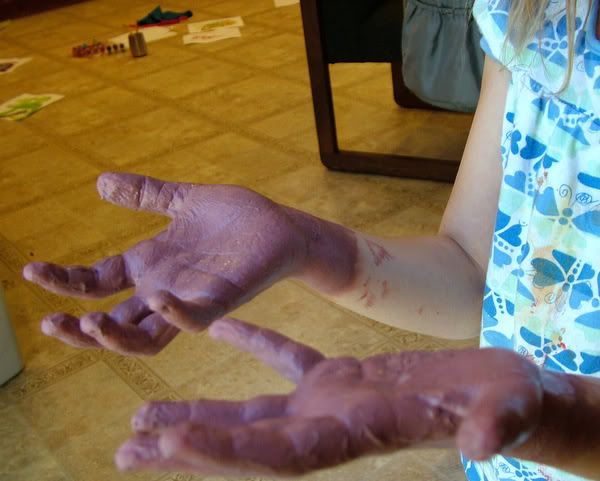 My daughter was so excited to show me her painted hands, but in the short time it took me to grab the camera and snap a few pictures, she grew tired of the immoderate indulgence. She couldn't wait to wash her hands and was begging me to hurry up. Now she is very reasonable with her paints.
Recently, the theory was proved again. After restraining the desire of my children to smother the cakes we make with every topping available, I decided to let my daughter have at it for this one. I did some basic decorations and then left her alone with the frosting and the toppings. This is what she presented to me: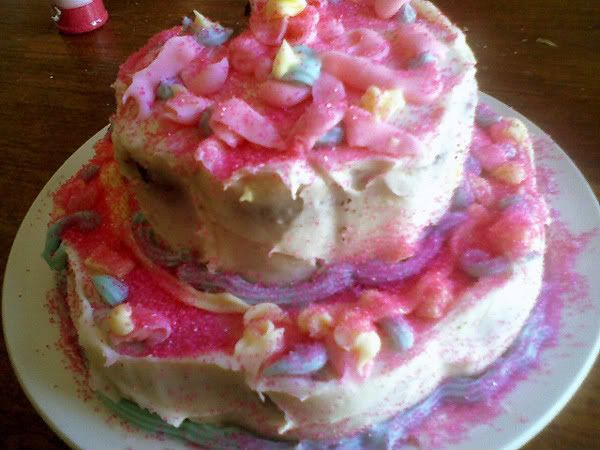 She was so excited about this cake. However, after just one piece, she decided it was too sugary and crunchy and has not even mentioned cake ever since. This experience also appears to have curbed her desire for chocolate milk. In its place she asks for freezing cold water, with five ice cubes.
Be forewarned, however, that the Easter candy effect does not seem to apply to frozen goods, or adults. I've personally tried and tried to debunk this "ice cream excluded" portion of the theory, but so far, no luck. Don't worry; I'll keep trying — I will get to the bottom of this. In the name of science, of course.