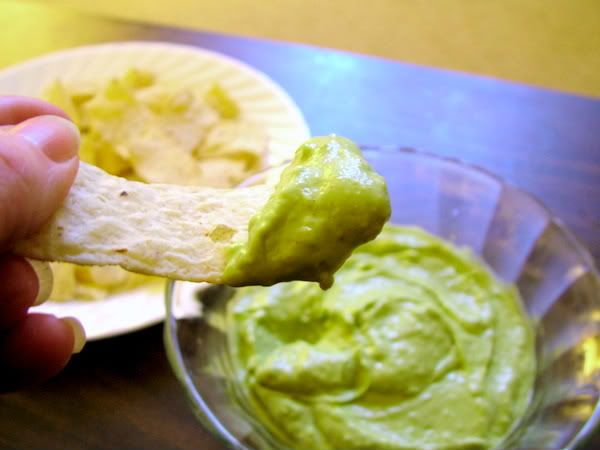 This is a great base recipe. It can be spiced up with all sorts of add-ins. As for myself, I prefer it in this simple form. I love that the flavor centers around the avocados themselves rather than being overwhelmed by other ingredients often included in guacamole. I got this recipe from the family of one of my husband's best friends. All I can say is, thank you! This is perfect for my recipe section—it's quick and easy, and anyone can make this successfully—even that guy at the fire station who doesn't know his way around a kitchen.
Ingredients:
3 ripe avocados
1/2 cup chopped onion
1/2 teaspoon salt
1/4 teaspoon chili powder
1 tablespoon lemon juice
1/3 cup mayonnaise (optional)
Yield - 4 to 6 servings
Begin by splitting and pitting the avocados.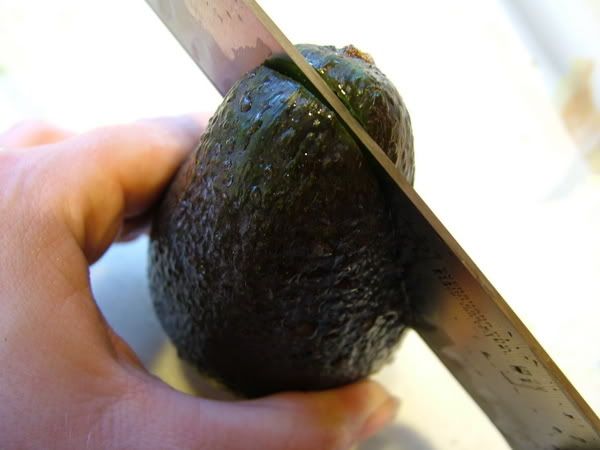 I used to make those sandwiches you find boxed in the refrigerator section of the cafeteria as one of my college jobs. I have fond memories of waking up in the wee hours of the morning and trekking down the steep hill upon which my dorm was perched. I'd walk through the thick, dew-laden morning air, stand behind my stainless steel island in the industrial kitchen, and split avocados to the sound of
Don't Speak
by No Doubt in the background. Honestly, those were fond memories. I don't know why, seeing as how the harshness of early morning and a mind-numbing job were involved. But there was something about the combination of music and bearing witness to the campus at a time of day that most people didn't get to experience that made it interesting. I was alone with my thoughts, Gwen Stefani, and my turkey slices.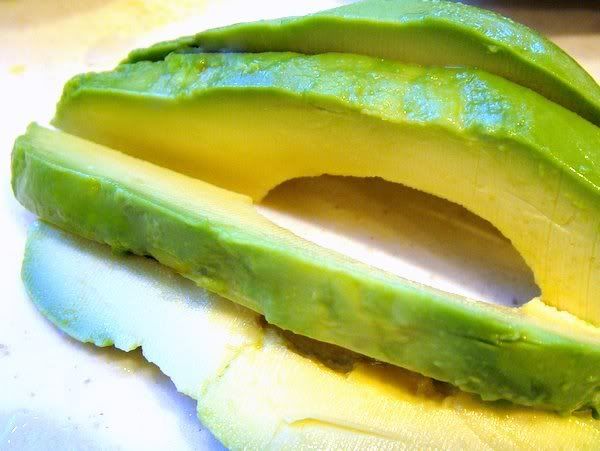 Anyway, here's the method I was taught for pitting and slicing an avocado. After cutting around the pit length-wise, twist the avocado and separate.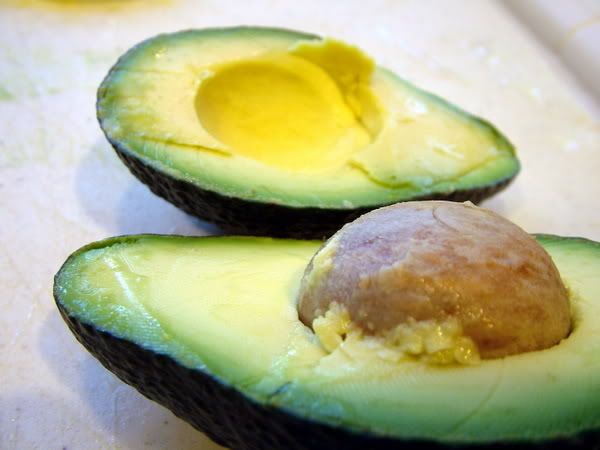 Take a large knife and carefully, but with some oomph behind it, embed the knife into the pit. Now the pit can be twisted right out of the avocado.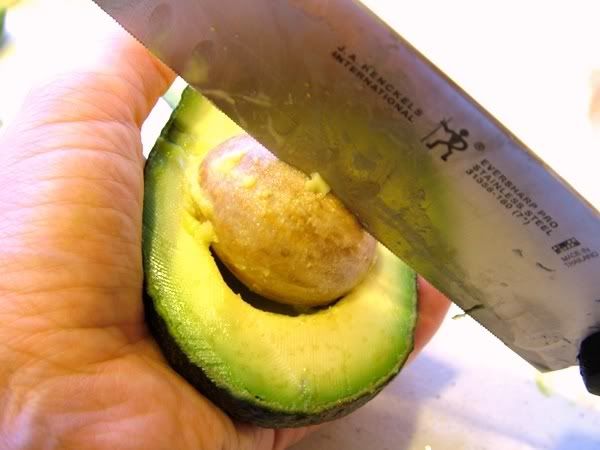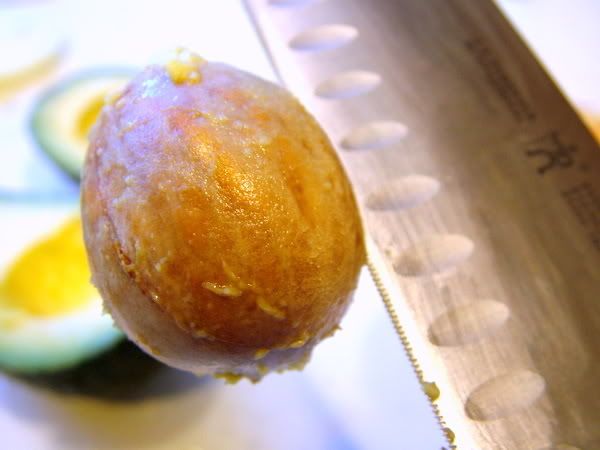 Insert a large spoon next to the peel and slide it around to separate the avocado.
Peel and pit the three avocados and place them in a food processor.
Chop the onion (or grate it, if you can't abide the texture of an onion.) I use about this much onion,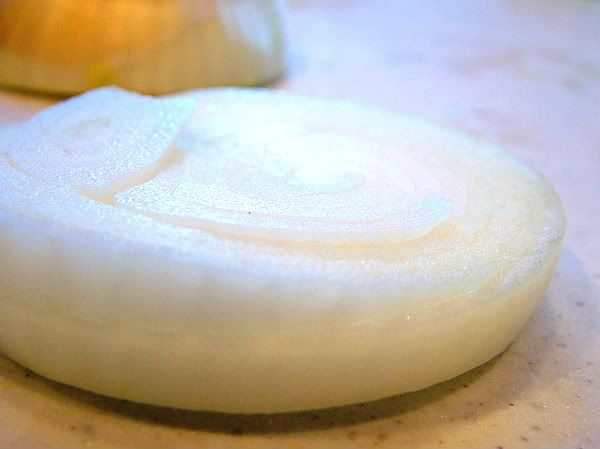 which is roughly 1/2 cup once chopped.
Add the salt,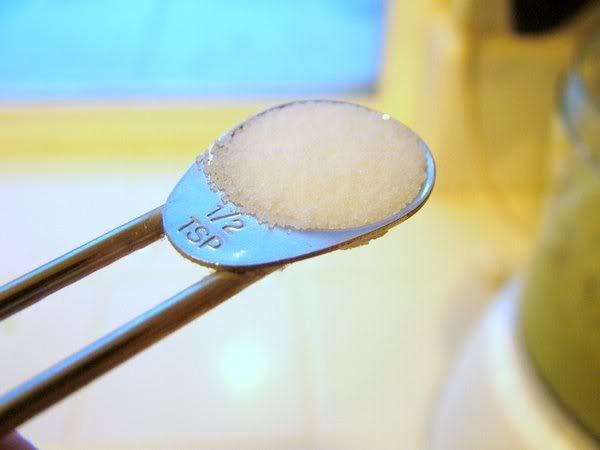 1 tablespoon lemon juice (which is equal to the juice of half of a lemon),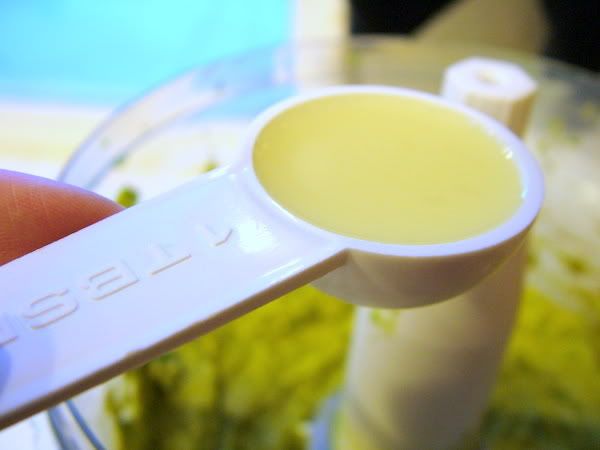 chili powder,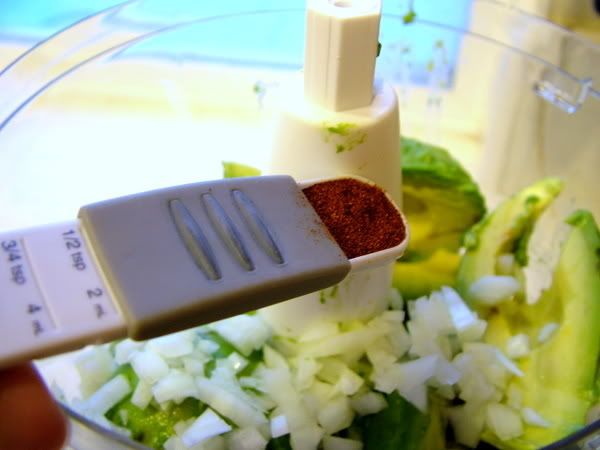 and mayonnaise.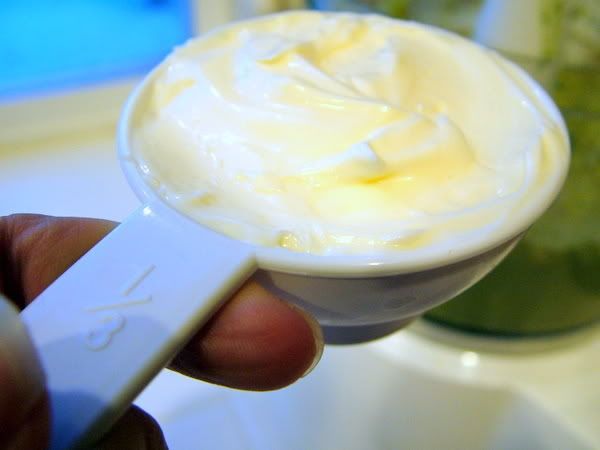 If you don't have a food processor, just mash the avocados with a fork before stirring in the other ingredients.
Pulse until the guacamole is at your desired texture. At this point, you could add in all sorts of extras—chopped tomatoes, a minced clove of garlic, large chunks of avocado, chopped fresh cilantro, jicama, Serrano chilies, diced shrimp, or even mango.