I'm a shopaholic, but not in the traditional sense of the word. More like, I'm a constantly forgetting something and have to run to the store for a few things aholic. I was talking with a lovely group of ladies last week about whether or not we make a shopping list before going to the store. I rarely make a list. I tend to forget more things when I do—probably because I don't make the list till right before I go. It's better if I wander through the store rather than depend on an imperfect list. If I wrote things down right when I realized I needed them, instead of waiting until the last minute, I wouldn't have so much of a problem. But then there's always those items that run out or perish quickly, like fruit and bread, so I would probably end up going to the store all the time anyway.
Admittedly, I kind of like my frequent runs to the store. I love to wander through the aisles alone, without any time restraints, and without anyone asking to get in the cart or get back out of the cart or to help push the cart or to put unnecessary items in the cart. I don't care if it's the grocery store, Target, the hardware store—anywhere will do. It's a happy time. I'm the one in the aisle next to you who's singing along with the overhead music. I try to keep it down.
While I was out last time (only two days ago), I realized that I have a pattern—almost a ritual—to the way I shop at the grocery store. I zigzag through the middle aisles first, then do a perimeter sweep with the produce section at the end, and then get milk and frozen goods last. And when I load up the belt at the check-out stand, I always put the drinks and heavy items first, with light items last. I do that so that if I get a bad bagger, he won't smash the bananas and un-leaven my bread with the canned goods.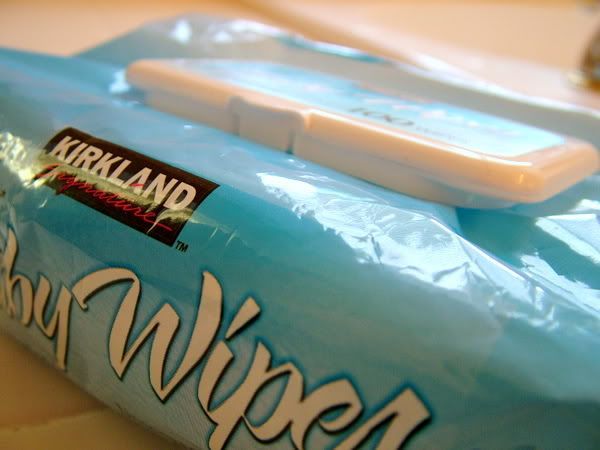 There's an imminent run to Costco for diapers and cereal that I'm looking forward to. A Costco membership should be sent home from the hospital with every new parent. Which reminds me of another discussion I had with my sister, about her favorite Costco finds. Costco and Trader Joe's seem to be the two stores where people have item addictions here. For me, I can't do without Costco diaper wipes. I can never have too many of these bags floating around the house. It was a sad day when they changed out the old style for the new, but our relationship survived and is stronger for it. Another Costco item I love is the spinach ravioli. Talk about a quick, easy meal!
Do you have item addictions from specialty stores too?