This is a variation of a baked ziti recipe that one of my good internet friends from a parenting board shared with me.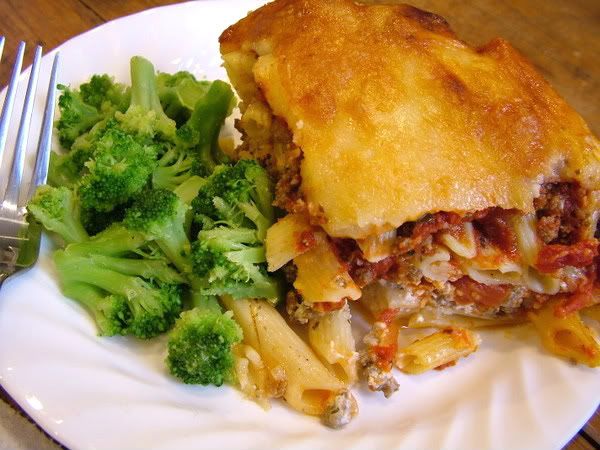 Thanks to Amy, this casserole quickly secured it's place as one of our most frequent dinner choices. It pairs up beautifully with these
quick, easy bread sticks
.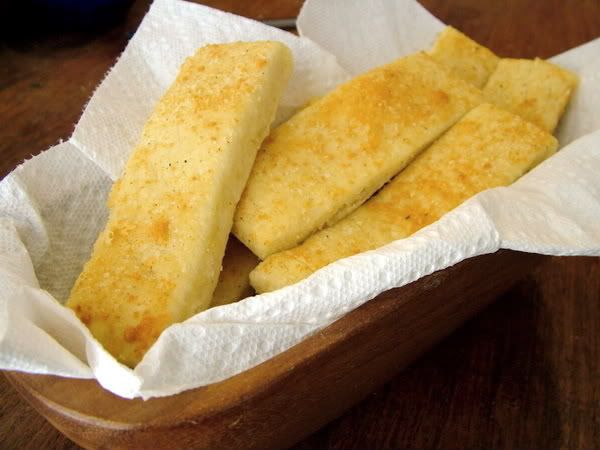 Ingredients:
1 lb ground beef
1 medium onion
2 cloves of garlic
2 tablespoons butter
1 tablespoon olive oil
1 teaspoon basil
1 teaspoon Italian seasoning
1 24 or 26 oz. jar spaghetti sauce
1 lb penne pasta
1/2 lb mozzarella cheese
1/2 lb provolone cheese
1/2 lb monterrey jack cheese
1/4 cup grated Parmesan cheese
1 1/2 cups sour cream or ricotta cheese
Salt and pepper to taste
To begin, cook the pasta according to package directions. I like to slightly under cook it by a minute since it's going in a casserole.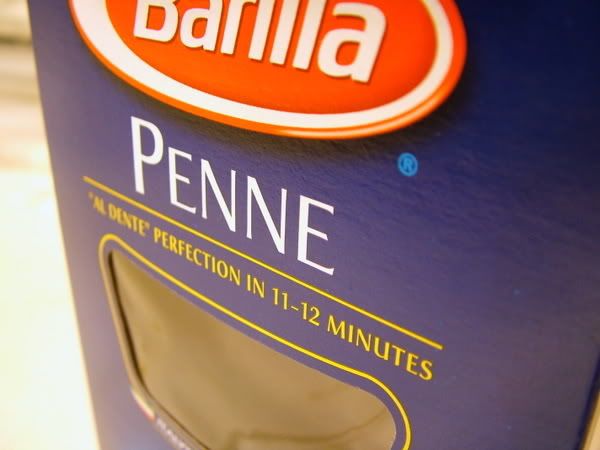 While the pasta is cooking, heat up one tablespoon of butter and one tablespoon of olive oil in a pan.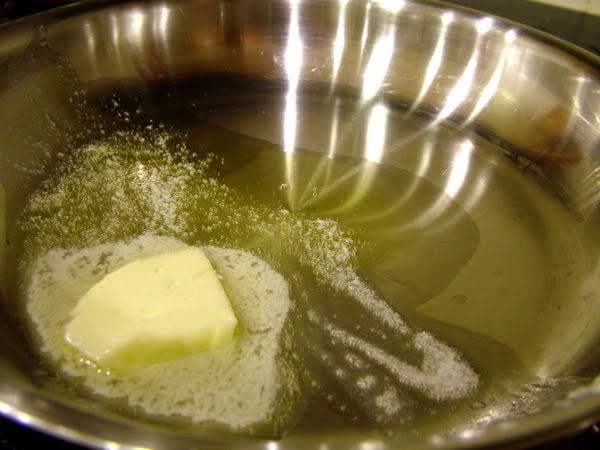 Chop up one medium onion and two cloves of garlic.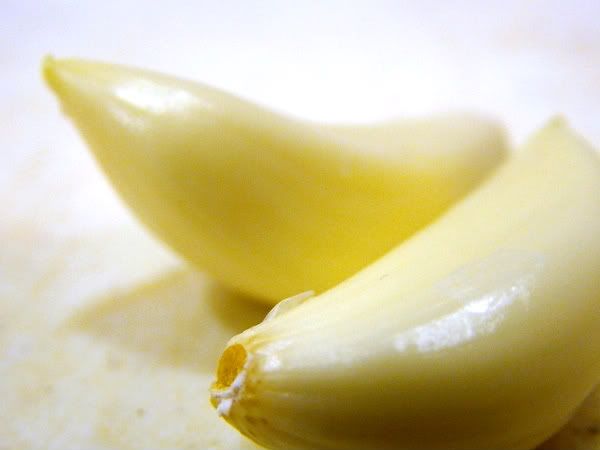 Sauté the onion and garlic until the onions become translucent and slightly browned.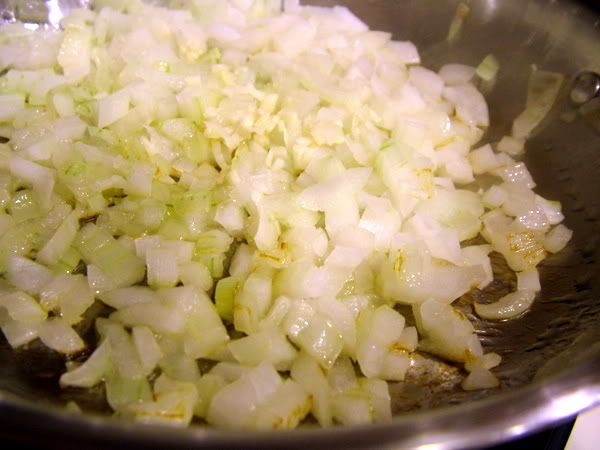 Add in 1 pound of ground beef and the basil, italian seasonings, and salt and pepper to taste. Stir frequently to break up the beef and keep the garlic from burning. If you're trying to make this not-exactly-healthy dish a little healthier, you can drain the fat before adding the seasonings. But I'm usually not that healthy.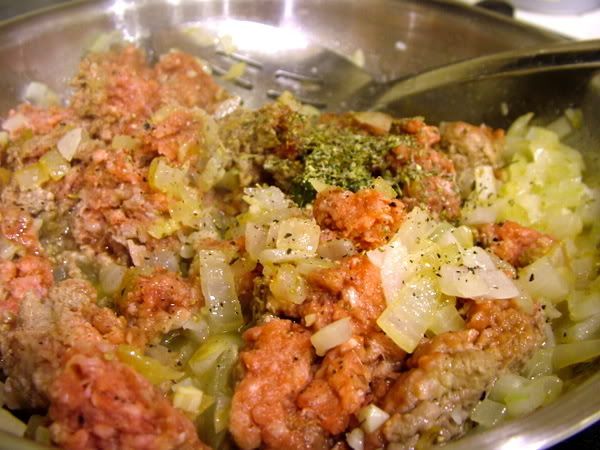 I just keep it all in there, and cook the beef until the pink is gone.
When the pasta is finished, drain it and place it in a large casserole. Add a tablespoon of butter to coat and a healthy dose of salt. Salted, buttered noodles. Mmmmm. Buttering the penne in the casserole greases the edges and keeps it from sticking later on. As if we need anymore fat/butter/oil. Ha!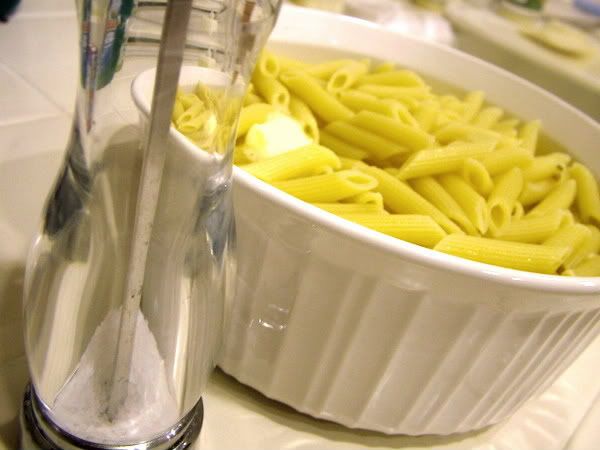 Remove the noodles from the casserole dish and set them aside till later. I only use about 2/3rds of the noodles and save the rest for my picky daughter who won't eat anything that touches a tomato.
About the cheese.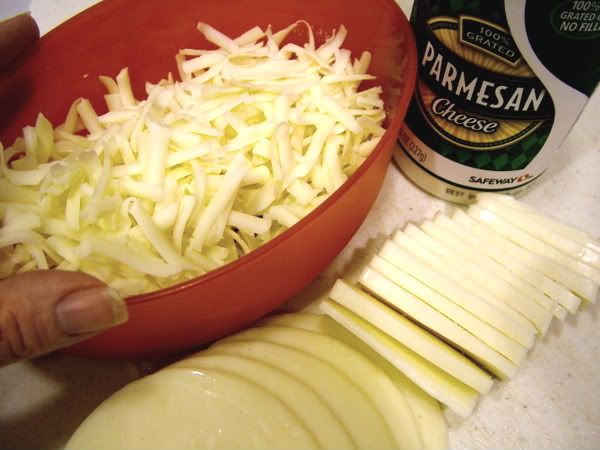 This is the cast of characters I usually use, plus the sour cream. Now I've heard tell that there are people who won't attempt sour cream in a pasta dish. If you are one of those, try ricotta instead. But if you're willing, I highly recommend the sour cream. It is less heavy than ricotta, and has a milder taste—but similar texture—when cooked. It's one of my favorite elements of this dish.
Now for the assembly.
Begin by placing a layer of noodles in the bottom of the casserole.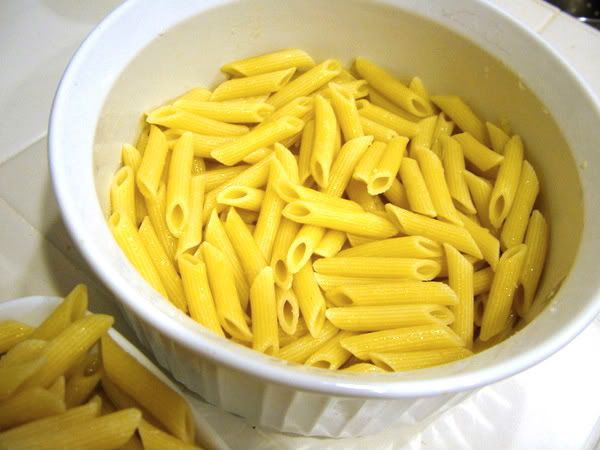 Then layer on half of the ground beef mixture.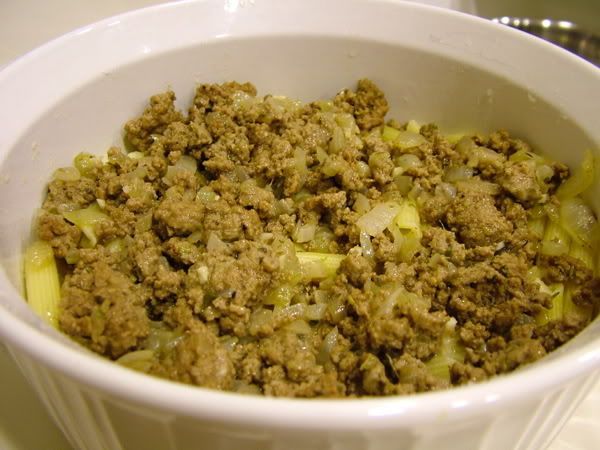 (It was about this point when I realized my bottom noodle layer was too thick and that I was going to run out of room quick.)
After the ground beef, spoon on all of the sour cream...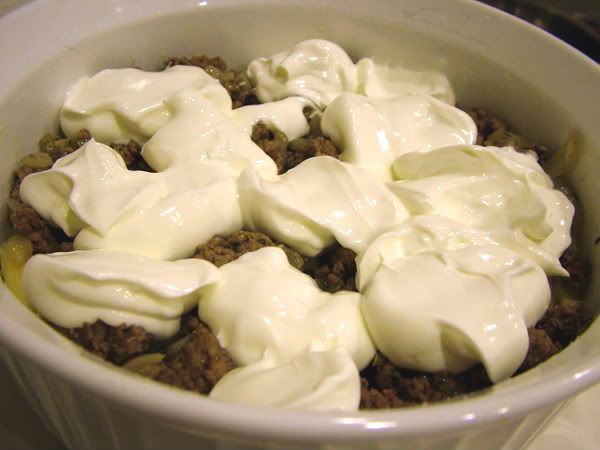 and spread it around.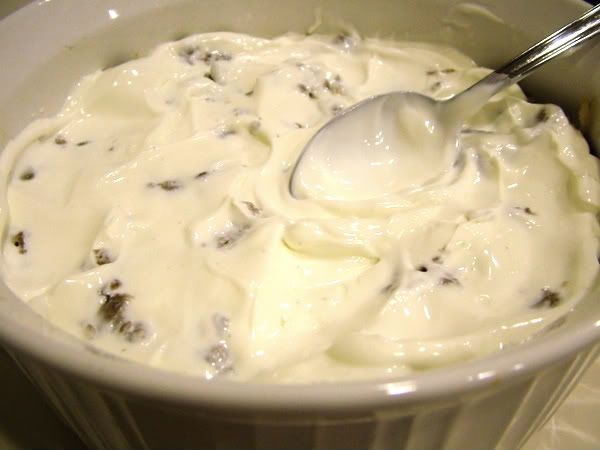 Top it with half of your jar of pasta sauce.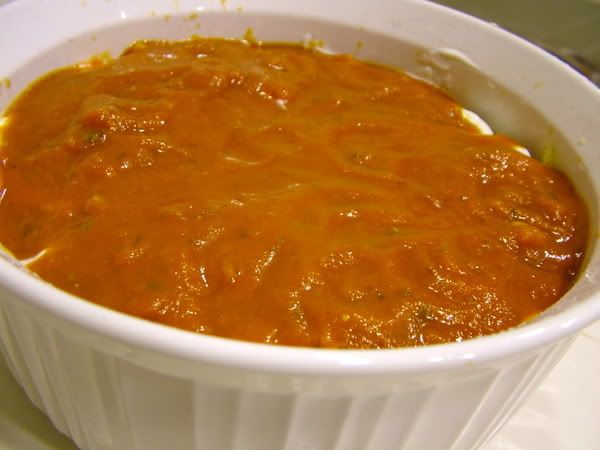 I particularly like the Bertolli tomato and basil sauce for this dish.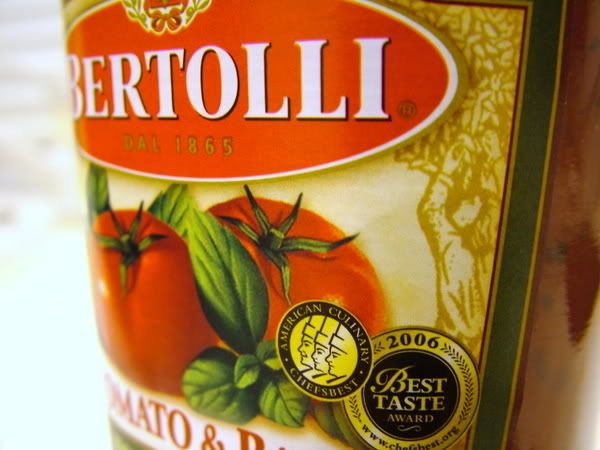 Next, layer on half of each of the cheeses.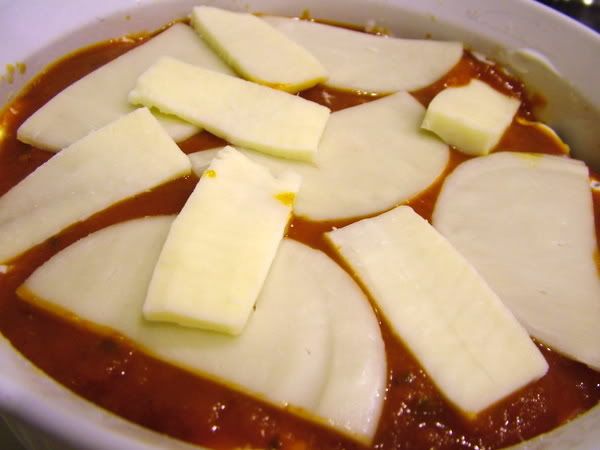 See how full my casserole is because of that large noodle layer? Ooops.
Create a second layer like the first, minus the sour cream.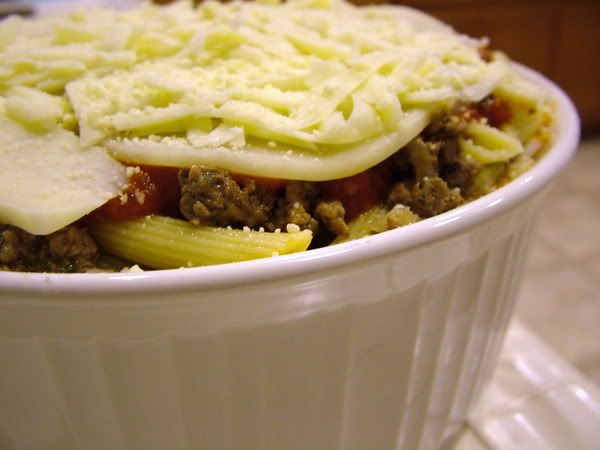 Bake in a preheated 350° oven for 45 minutes.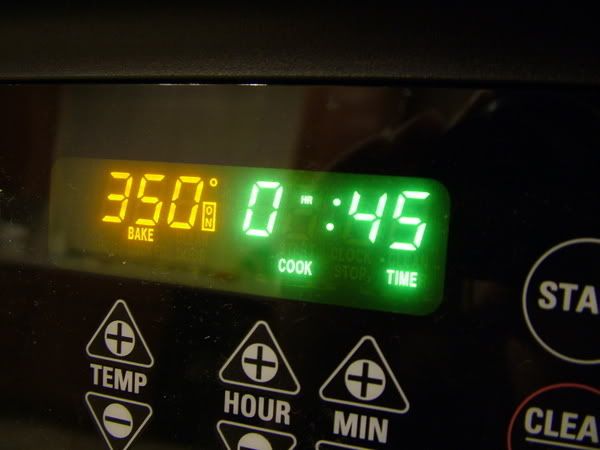 Let it sit for a few minutes before serving. Then watch your husband scoop out a large slab for himself...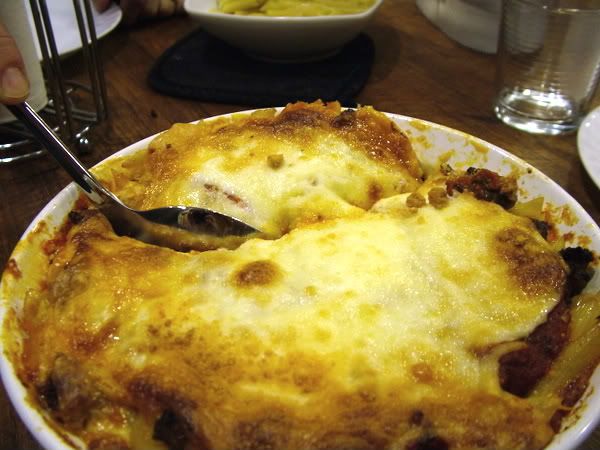 only to plunk it down on your plate instead.