I feel comfortable with my firefighter having a dangerous job. I don't know why; this coming from someone who has been known to worry herself out of a night's sleep over much smaller troubles. I just don't feel like he's going to die on the job.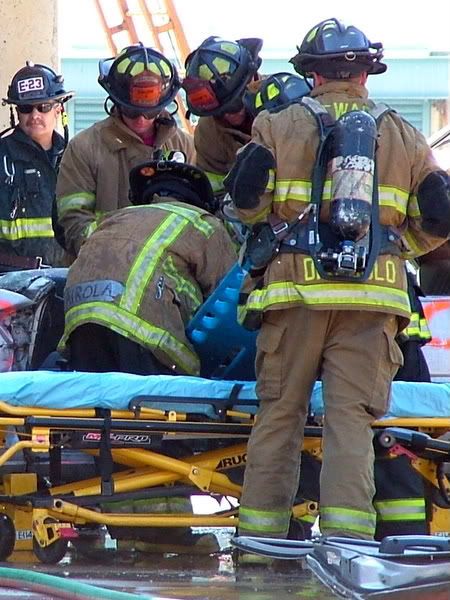 However, I do worry about him getting injured. He goes into all sorts of environments where he could twist an ankle or tweak his back.
Recently, he went interior on a house fire with the exact kind of conditions that I fear. The house was covered in junk. Not just piles of trash here and there--we're talking several feet of papers and slick mail and who knows what else, filling the house. He couldn't see the floor. He had to use all of his weight to get the front door open and push the pile of crap aside.
Once in, he found that the garbage was going to be a big problem. The piles of paper slipped out from under his boots as he tried to walk. Pieces of furniture were randomly strewn in and on top of the mess. He made his way up the stairs, trying not to slide back down on the debris that covered the steps. The house was full of smoke, but he had a hard time finding the source of the fire. Even the thermal imaging camera (TIC) that his captain was using didn't help.
Once upstairs, he tried to keep his balance while following the wall with his extended hand, like firefighters do when searching a house. It helps them keep oriented. He threw random pieces of trash and small furniture out of his way.
His captain decided he had better clear the stairs while my firefighter was searching for the flames, in case they needed to make a quick exit. He went to remove the piles of junk mail and ended up sledding down them instead. Luckily, he didn't get injured--just made it downstairs quicker than he would have liked.
The fire itself was rather small; choking itself out in all of the smoke. The garbage was much more hazardous. Doors were blocked, searching for anything was difficult, and mopping up afterward was a huge chore.
I worry about my firefighter getting injured and no longer being able to do this job that he absolutely loves. It really is a physically demanding job; I can tell, by the number of hot baths he needs to relax his stiff muscles after work. Between maintaining all of the equipment, keeping physically fit, and the demands of the job itself, this is not a career for lazy--or injured--people. I could never be a firefighter; I'm much too wimpy, and much too prone to getting migraines. I think that counts as lazy AND injured. :)
This week my firefighter got a side job as a skills instructor at a local paramedic school. He picked up the job because he loves it; I like to think of it as a potential plan B. For those of you who know him, you know how great he is at teaching (or schooling you, if you've played games with him.) He's charismatic, has a great amount of knowledge, and loves being able to relate to people. Enjoying telling people what to do doesn't hurt, either. Being a skills instructor isn't what I'd call lucrative, but it is a nice way for him to put a foot in the teaching door.
As for the students who will come in contact with him... keep your hands and feet inside the cart at all times, and enjoy the ride!