"As for the ball, it is quite a settled thing;
and as soon as Nicholls has made white soup enough
I shall send round my cards."
-Charles Bingley,
Pride and Prejudice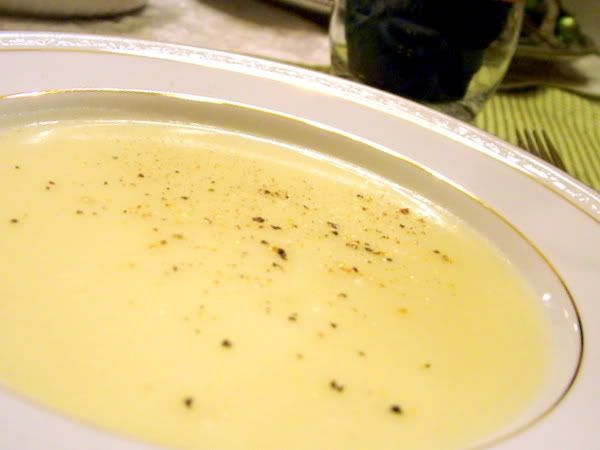 Okay, so this recipe isn't the traditional white soup made with veal broth, cream, and almonds, (ew!) but it's what I think of when I read that passage. Growing up, our family of eight used to have a nice dinner every Sunday. The meal always included the scent of Rhodes rolls baking in the background, and a first course of either soup or salad. This was often the soup of choice for those dinners.
This is comfort food at it's best; like randomly hearing a song that you love and know all the words to, but haven't heard in ages, with the added bonus of a warm tummy. Perfect for the cold spell we've been experiencing this past week. This is a variation of the potato soup found in
Joy of Cooking
. A wide variety of veggies and meats can be added to the soup as well.
And, as usual for most of the recipes on my blog, this very easy to make (and inexpensive, too.)
Ingredients:
2 potatoes
2 onions (of roughly the same size as the potatoes)
4 tablespoons butter
1 bay leaf
1/2 to 1 cup milk, light cream, or chicken stock
Prepared meats or veggies to mix in (optional)
Begin by roughly chopping two onions and two potatoes.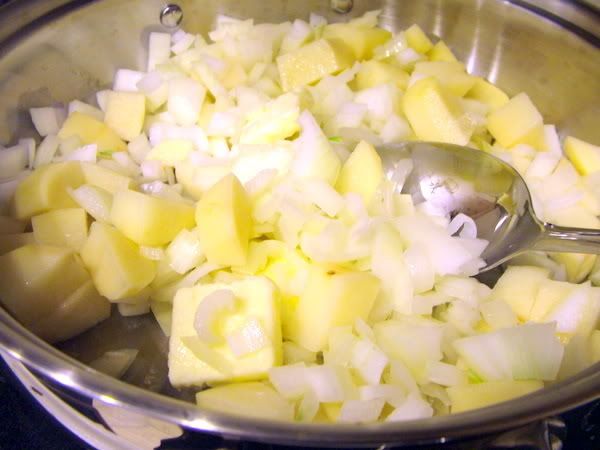 Place them in a large skillet and saute with two tablespoons of butter until the onions are translucent.
Add a couple of cups of water, enough to cover the veggies, and bring to a simmer. Add a teaspoon of salt, and if you have a bay leaf, add that in there, too. (I forgot the bay leaf this time around and didn't miss it.)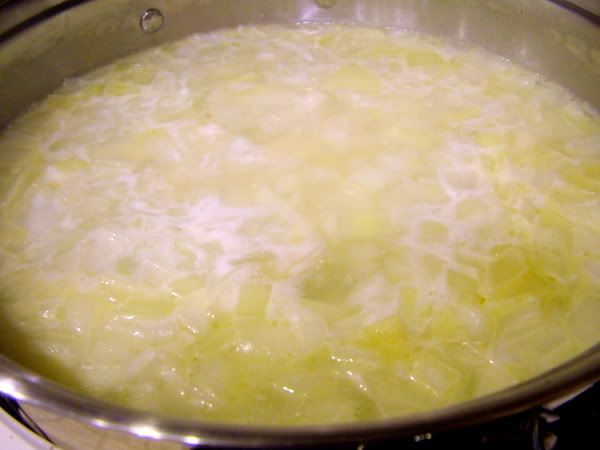 Cook until the potatoes can easily be broken apart with a spoon, about 30 minutes. Keep an eye on it, to make sure it has enough water in there to keep the soup from burning on the bottom.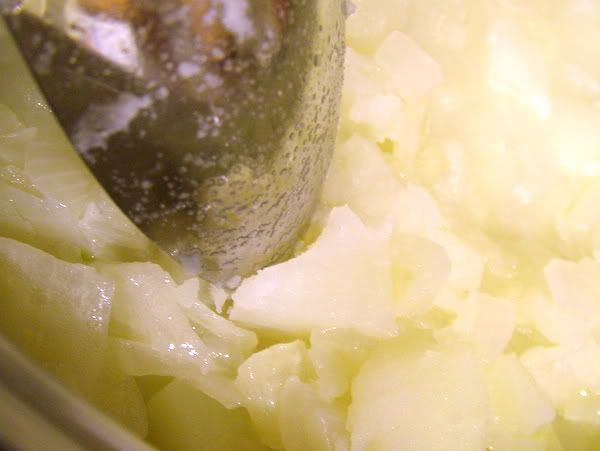 Fish out the bay leaf. Using a blender, hand held or otherwise, liquefy the soup.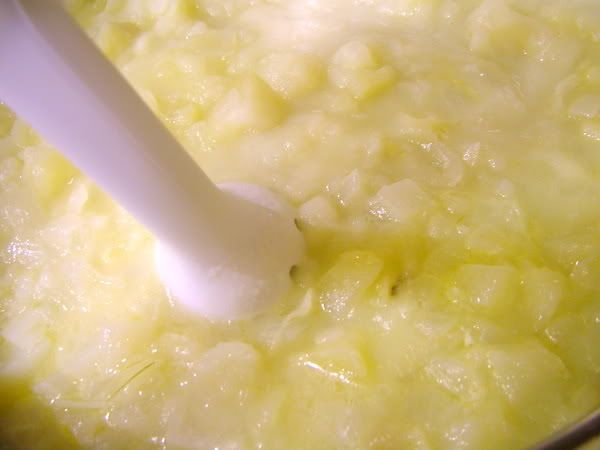 ...almost done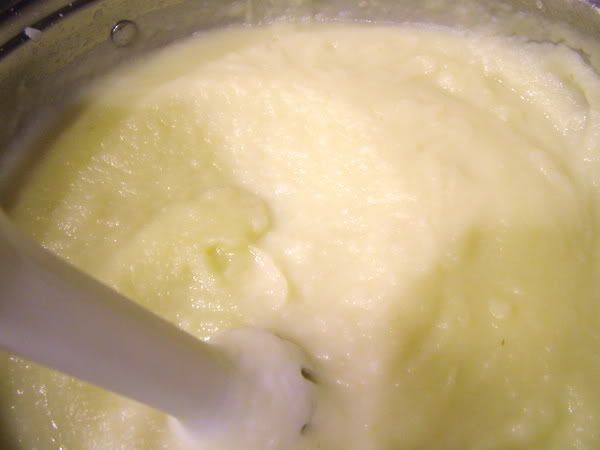 ...there. Once the soup is completely blended, add another two tablespoons of butter for good measure.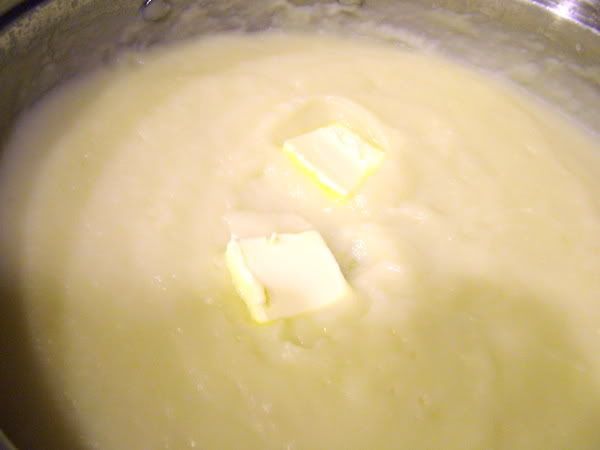 Stir in milk, light cream, or chicken broth to thin the soup to your desired consistency. I used about a cup here.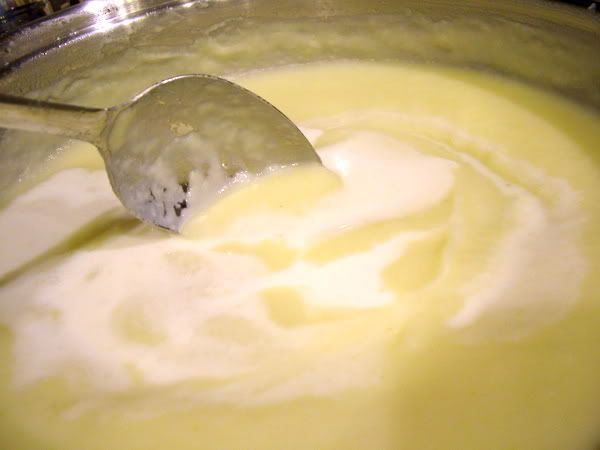 Serve with salt and pepper to taste, and if you like, cooked veggies or meat cubes, or even cheese. Irma Rombauer suggests paprika, a dash of Worcestershire sauce, chopped parsley, or diced cooked shrimp. I think it would be divine with the shrimp; that's next on my list.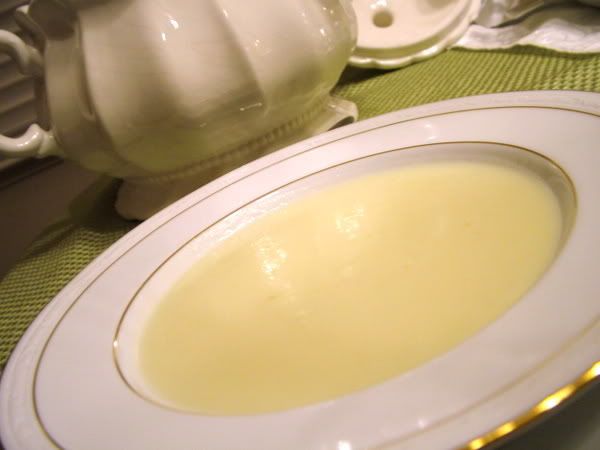 Then drift off to sleep in a happy comfy cozy soup coma.