I'm really excited to bring you this recipe from Eric the Engineer. I knew about Eric's cooking long before I ever actually met him. He will be immortalized as the man who was able to convince my firefighter to eat bell peppers, zucchini, and eggplant, in the same dish no less, and talk about it longingly for days!
Thanks for the recipe, Eric!
Chicken Ratatouille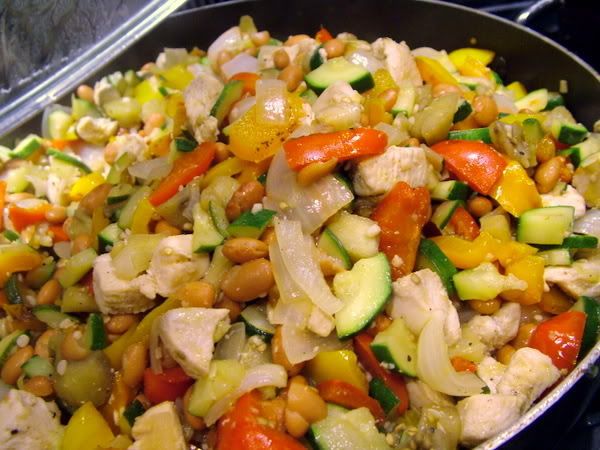 I can't take all the credit for this inspiration of this dish. My Mother Genae started with the vegetables as a side dish we had with dinner one evening. I took the greens and ran with an idea to make it a meal in itself, which has grown to become my signature/famous dish announced to me by folks who have eaten this meal. I added some things I learned from Food Network and with the strong passion n' love I have for Cooking. The smells and taste of this dish will remind you of home cooking. I hope you enjoy this dish; my Mother led me to it!
Thanks Mom, Eric
Ingredients
4 boneless, skinless, chicken breasts
4 medium sized bell peppers (baseball size & any color)
1 large white onion (Softball size)
4 Italian squash AKA zucchini
1 large eggplant
1 (16oz) can stewed tomatoes OPTIONAL: not too many folks liked the tomatoes!
1 (16oz) can drained pinto beans
2 tsp ground black pepper
2 tsp sea salt
1 tbsp minced fresh garlic
8 tbsp extra virgin olive oil
5 cups water
2 boxes of Rice-a-Roni Chicken Flavor rice
3 tbsp butter
1 pound pepper jack cheese, grated
Prep Time 30min or so. Cook Time roughly 30min. Serves approx. 4-5 people comfortably.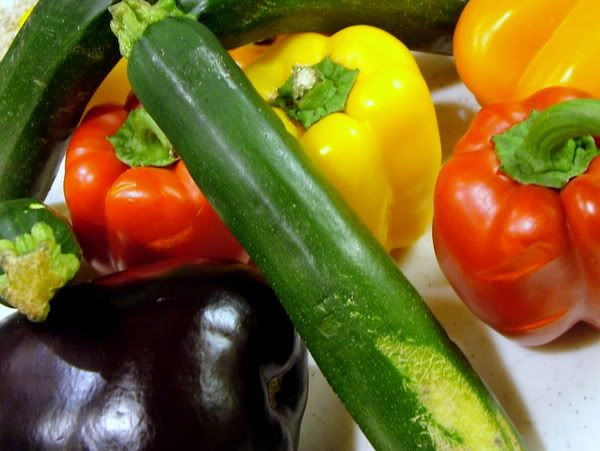 Directions:
Start by peeling the skin off the eggplant.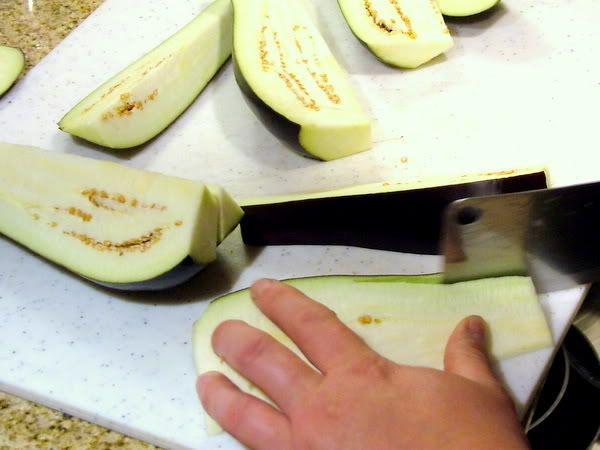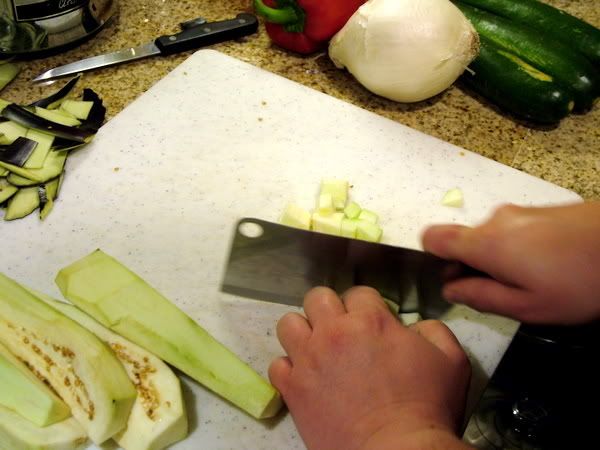 Cut into small cubes, this will speed up the steaming process. At the same time, grab a pot and boil about 5 cups water. This will be used to steam the eggplant. If you don't have a steamer, you can use a metal colander and cover with aluminum foil.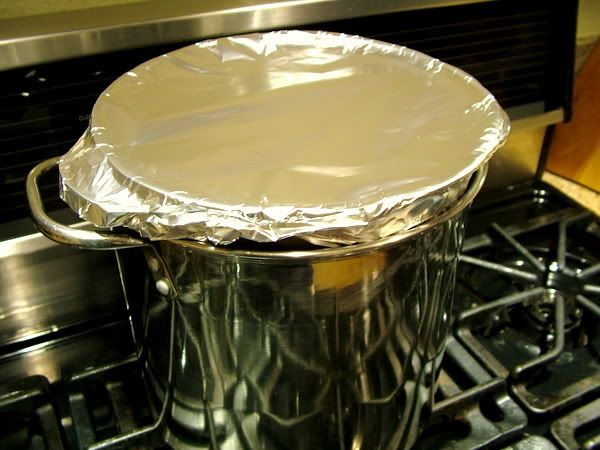 Place colander over pot and steam for about 20 min or so, till eggplant is tender. If the eggplant is mushy or squishy, it's over cooked.
At this point, while the eggplant is steaming away, continue to cut up the remaining veggies.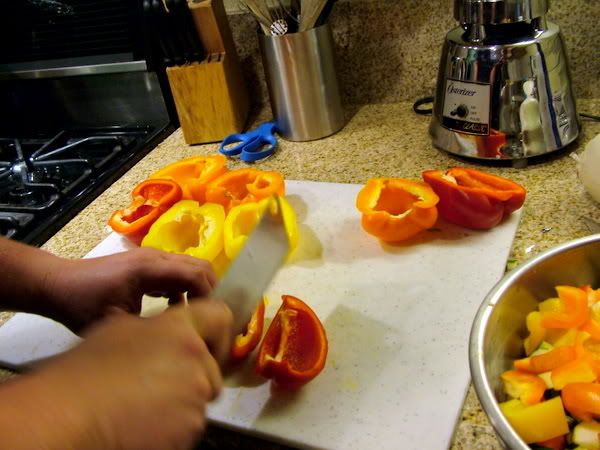 Chop all the remaining vegetables small and coarse, except the zucchini. The zucchini you want to cut a bit thinner as shown: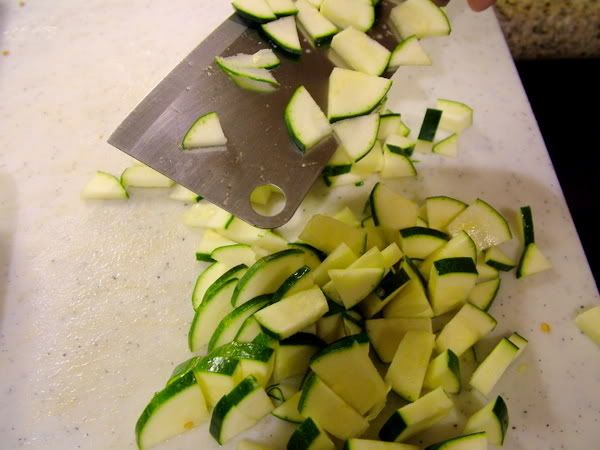 Grab a small pot or skillet for the rice. (You will also need a large skillet to accommodate all of these veggies. The veggies will reduce down, but you will combine them later. I guess you could also use a large pot in a pinch.) The directions for the rice are on back of box and just follow accordingly. This is where the butter and 5 cups of water come in to the game.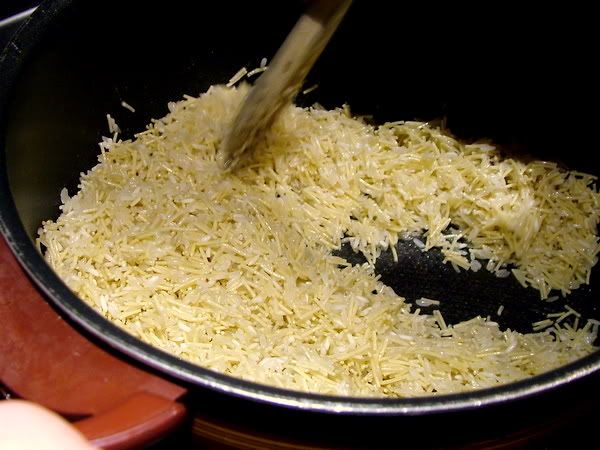 In a large skillet, add 1-2 tbsp of olive oil with the chopped white onion and cook over high heat with a pinch of salt and black pepper, until onion becomes tender or translucent.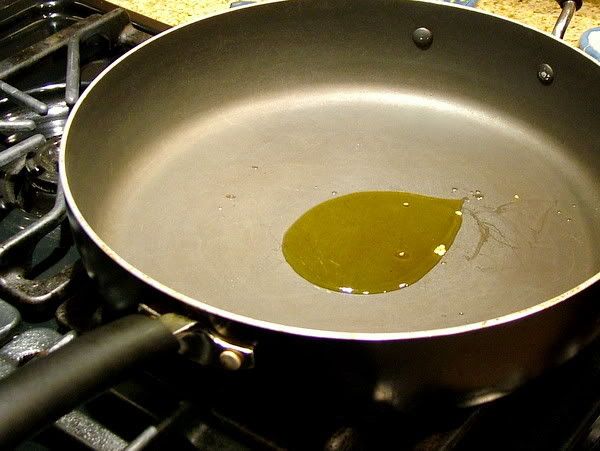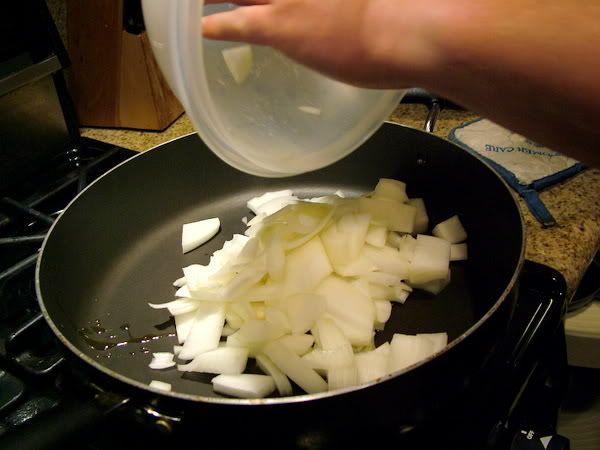 Add garlic and stir while cooking for 1 additional minute just before removing from skillet.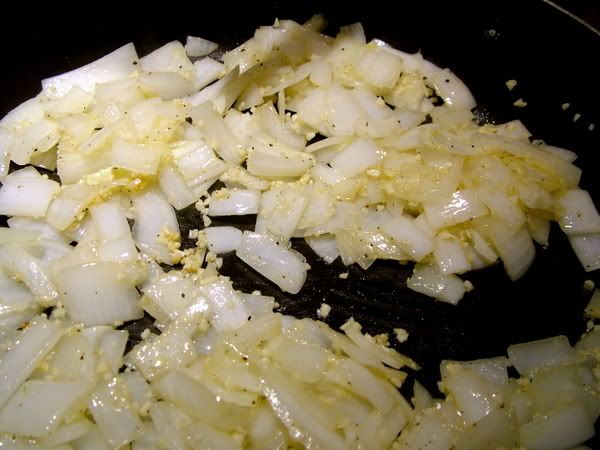 Place onion/garlic in a holding pot for later.
Using the same skillet, repeat the oil, pepper and salt mixture for the bell peppers. Cook on high until bell peppers become tender.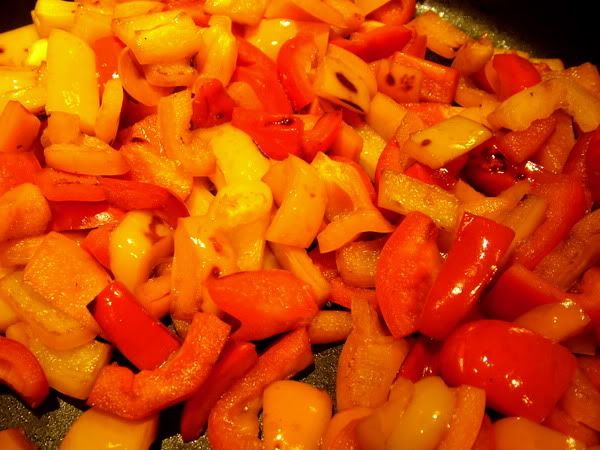 A little charring is ok. When done, remove and place together in holding pot with onion.
At this point, check and toss around the eggplant to see if even cooking is being applied.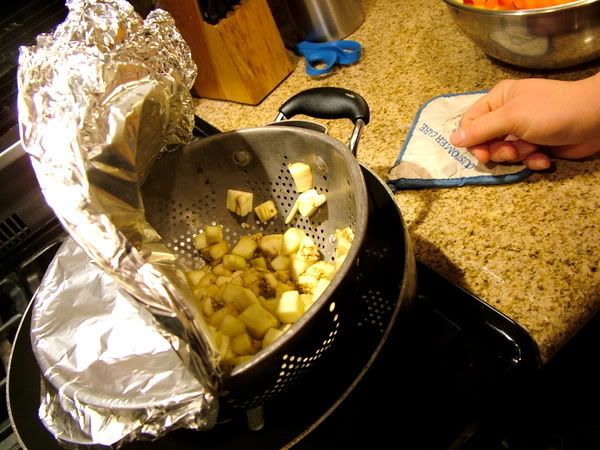 Using the same skillet, repeat the oil, pepper and salt mixture for the zucchini. Cook the zucchini until becomes tender.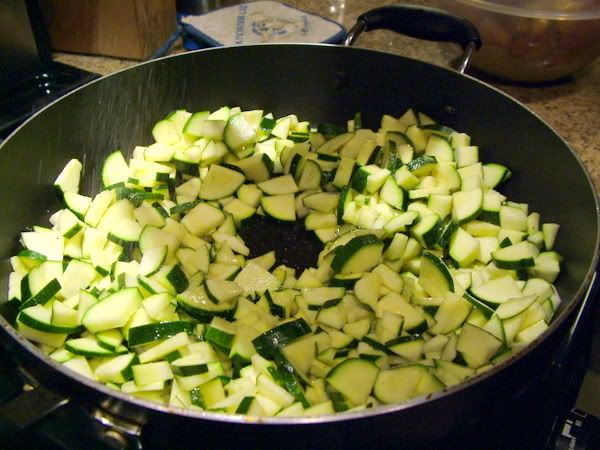 Add all the remaining cooked veggies including the eggplant when done, back into the skillet and reduce heat to simmer. Add the rinsed and drained pinto beans and optional stewed tomatoes into the skillet and stir to combine.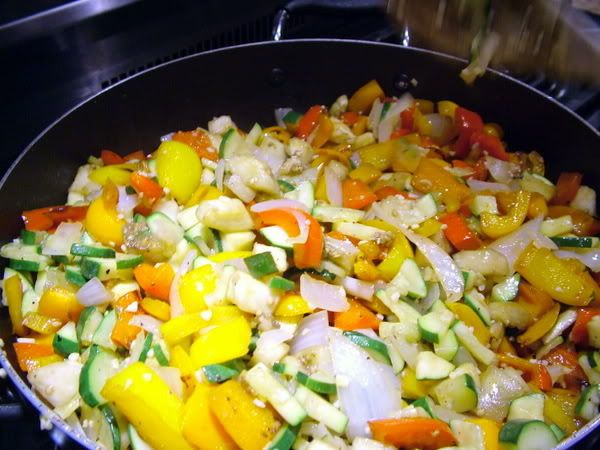 Using the same skillet, repeat the oil, pepper and salt mixture one last time for the chicken. Cut the chicken into bite size pieces as shown.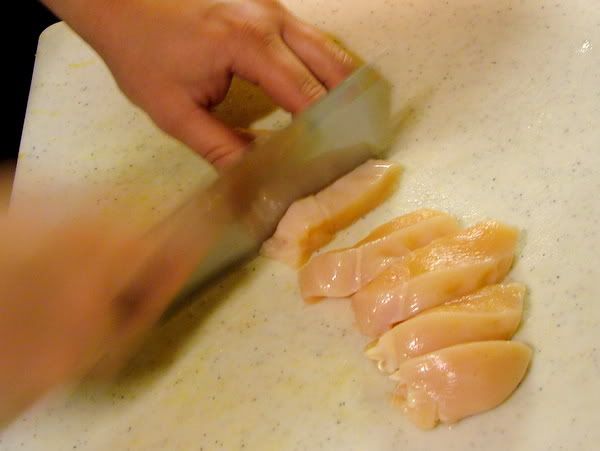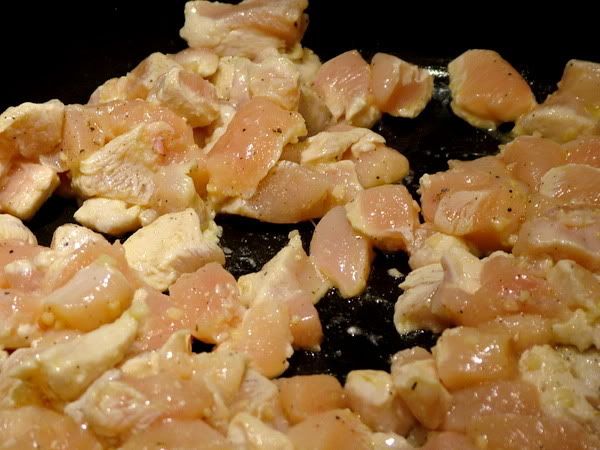 (At this point, check your rice. It should almost be done and you should grate your cheese or you can buy already grated cheese. ) On high, cook the chicken completely or until it turns all white.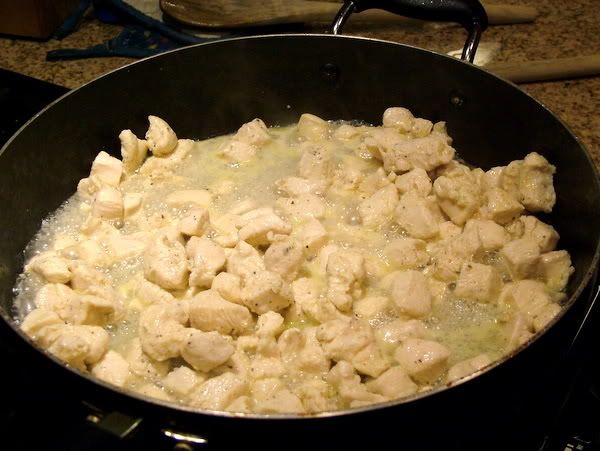 Drain the chicken if there is any remaining water left behind in the skillet. Add the chicken to the veggies and stir altogether.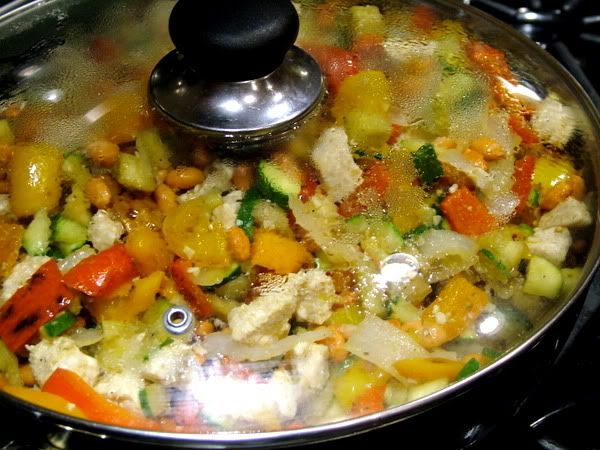 Keep this vessel on simmering heat, let it all stew and blend together until ready to serve.
Plating:
Take a scoop of rice, apply to plate and flatten the rice, so you can pile or add onto it. Add a scoop of Ratatouille to the top of rice. Sprinkle a hand full of grated cheese to the Ratatouille.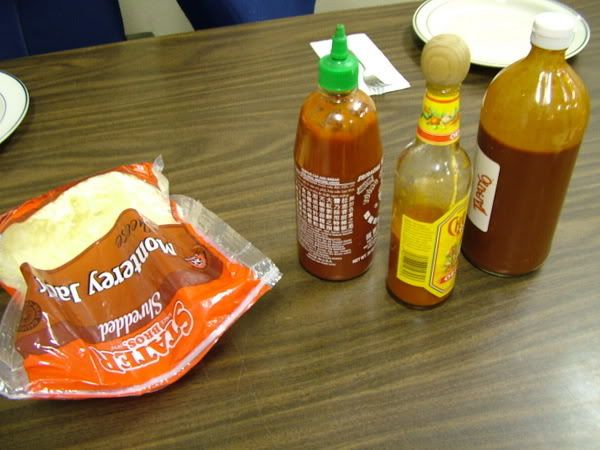 You can add hot sauce if you want some kick. Toss all ingredients together and enjoy! Bon Appetit!